Wallke X3 Pro Deliveries Start on August,10th
The deliveries will commence starting on August 10th and you will receive the long-awaited Shipment Tracking Number as soon as your Bike is by the courier. All orders are processed within standard processing in 12 hours via FedEx Ground. Thank you for your patience and understanding.
70 discount code: flashsale70 | Expire on August 10th, 2020
So if you know anybody who has been hesitating, now is the time
Here's our customer's video about the X3 Pro. See how cool it is!  Click into https://www.youtube.com/watch?v=CUDr4OmHz_0
When your order has shipped, you will receive an email informing you of your package being shipped along with a tracking number.
*Please note, tracking can take around 24-48 hours to update after dispatch 
 If for any reason you don't receive this or for more shipping information, you can email to our Customer Care team (sales@wallkeebike.com) along with a description of the item and your order number. Once we receive your email and assess the shipping information, we will be in contact with you immediately. The orders normally ship in 3-7 business days after receipt of order. Once the order is placed and delivery times will vary depending on where you live. 
You can learn about our shipping policy by clicking here.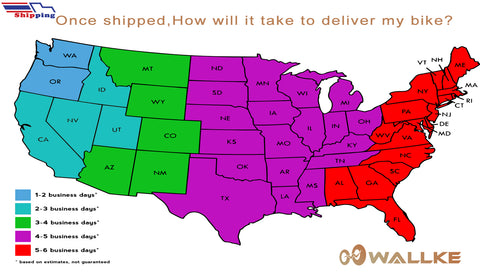 Note:
Flashsales now with only 5 days left, the best price are going to end on August 10th. 
*When to start shipping: August 10th.
Upgrades made from the August batch:
- KD986

High luminance colored LCD with special technology( The glass lens fully and seamlessly fits to screen for better display effects). Holographic screen, it looks like a smart phone when the display is switched off. The visual effect is good both from different angles and under strong sunshine.
Glass lens, full screen, with no plastic edge
New appearance, more fashionable, high sense of science and technology
The display side has no fixed cable harness. Fully apply the latest technology of board-end-connector to the displays. It is also good for after sales service, easier for replacement.
eg. the cable from controller is directly inserted into the green connector below. It is the same way for remote cable and USB cable.

- New Seamless Welding Design

Making the aluminum frame seamlessly, improve the aluminum frame sealing performance and decorative performance.
Seamless welding is an upgraded version, using seamless welding technology, outside aluminum formation, the level of simplicity; no bump, more beautiful and more decorative performance;
I hope you are all healthy and safe during this world crisis.
Wallke Ebike Team