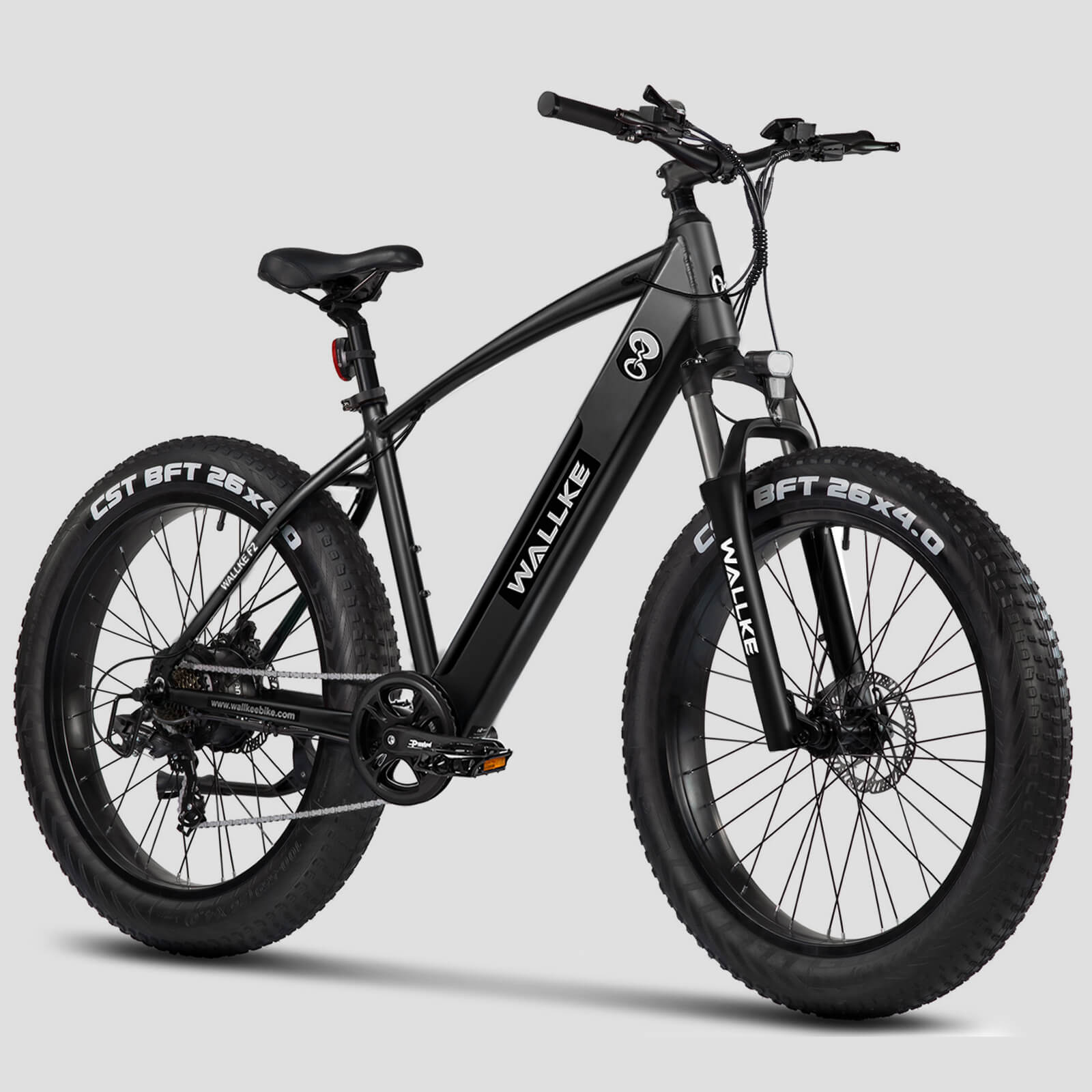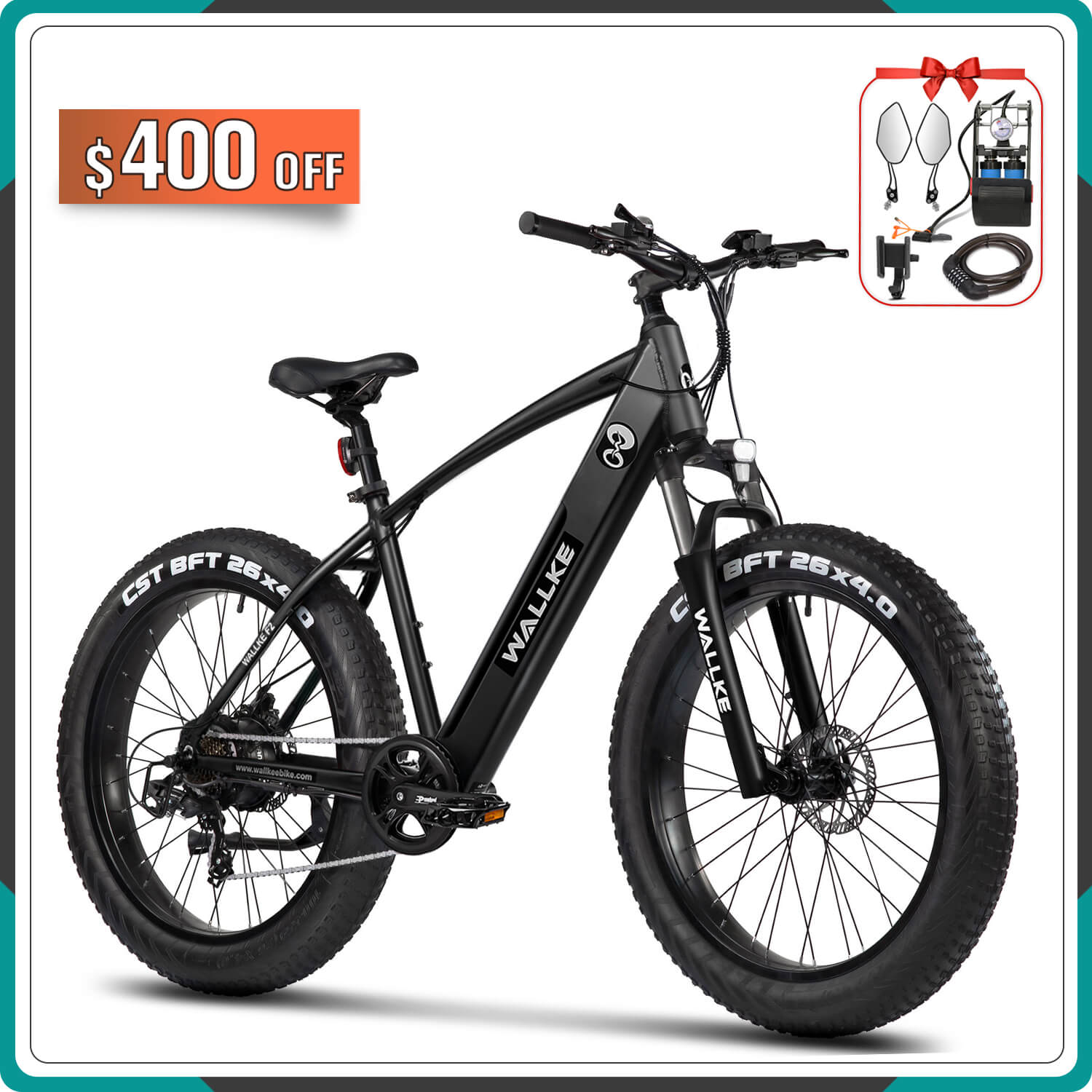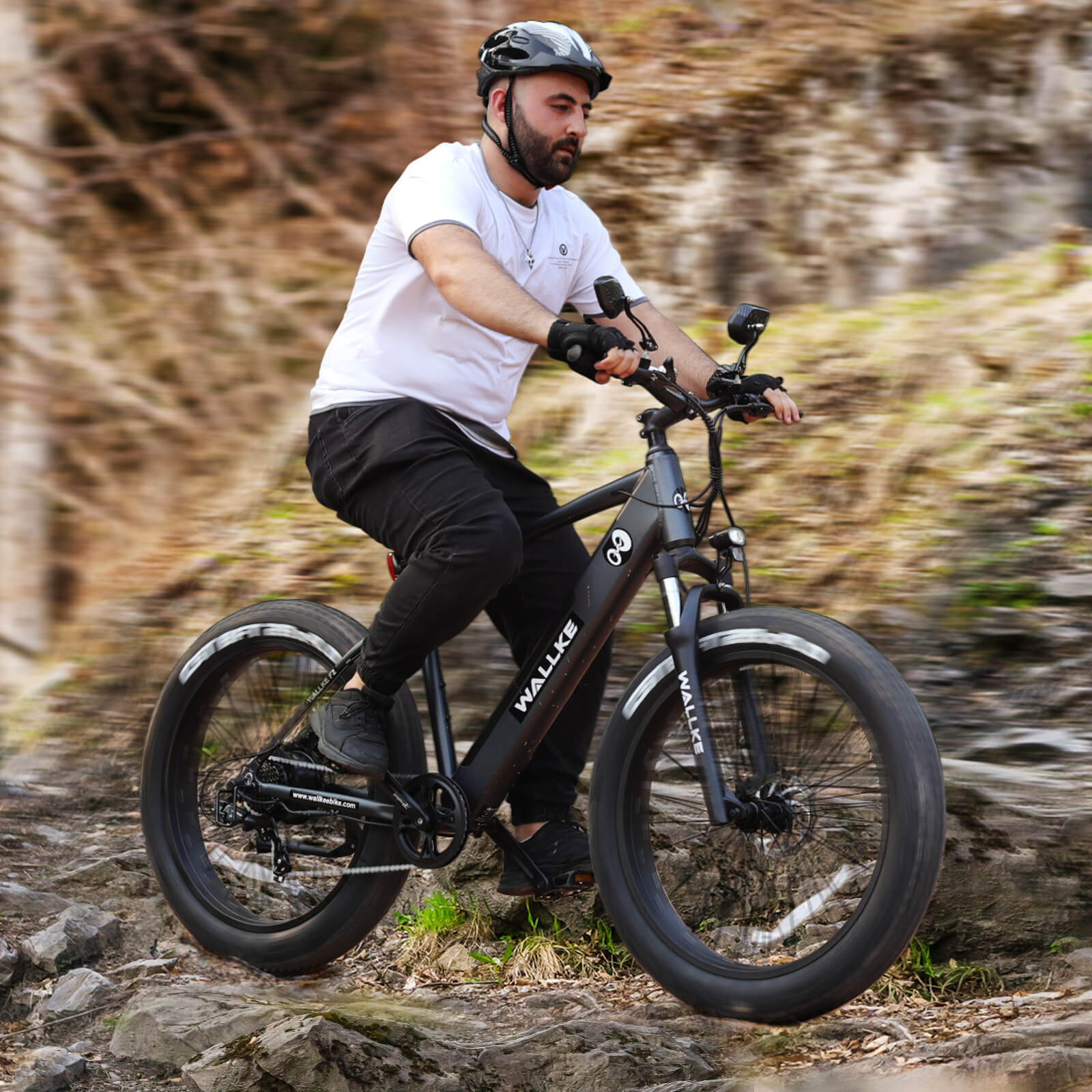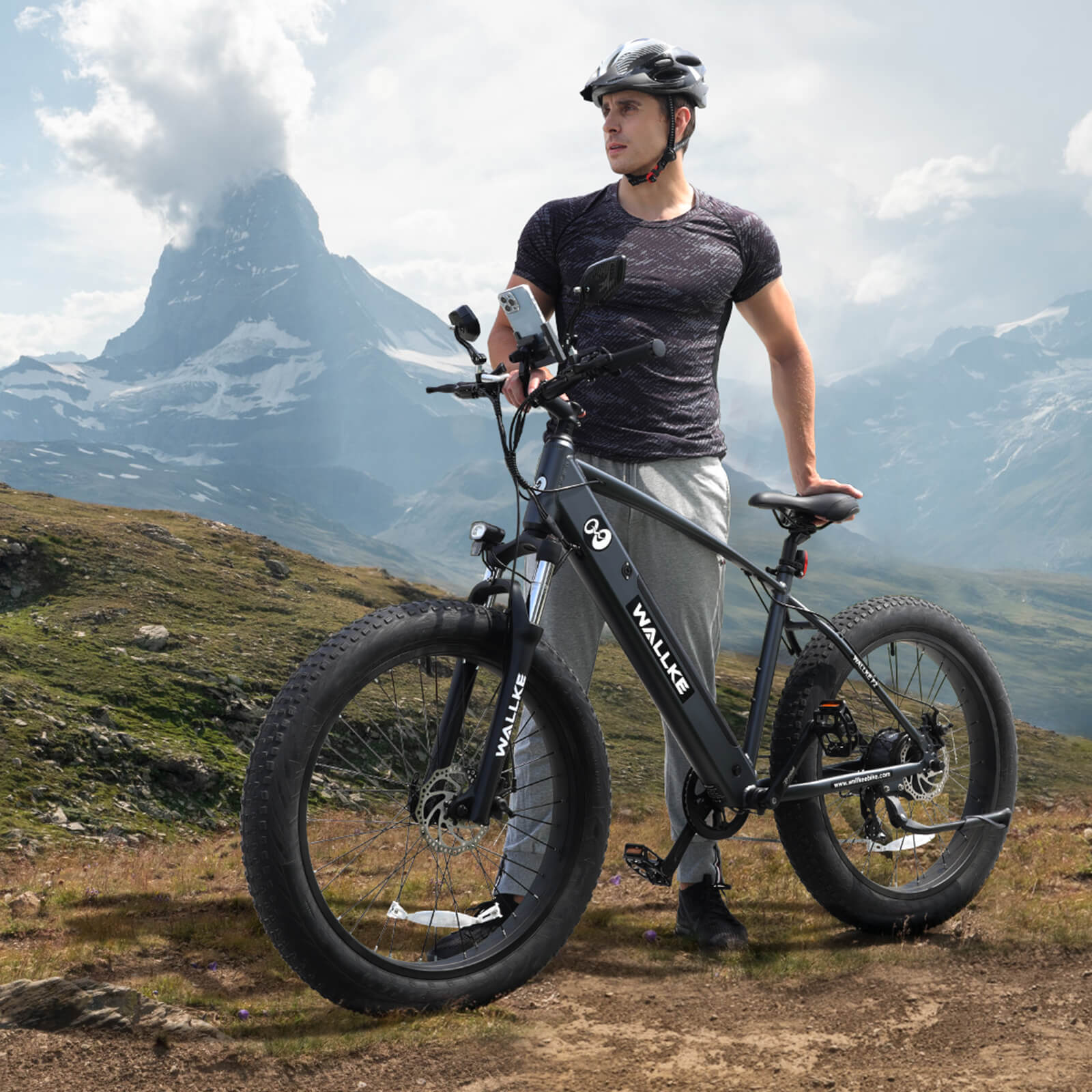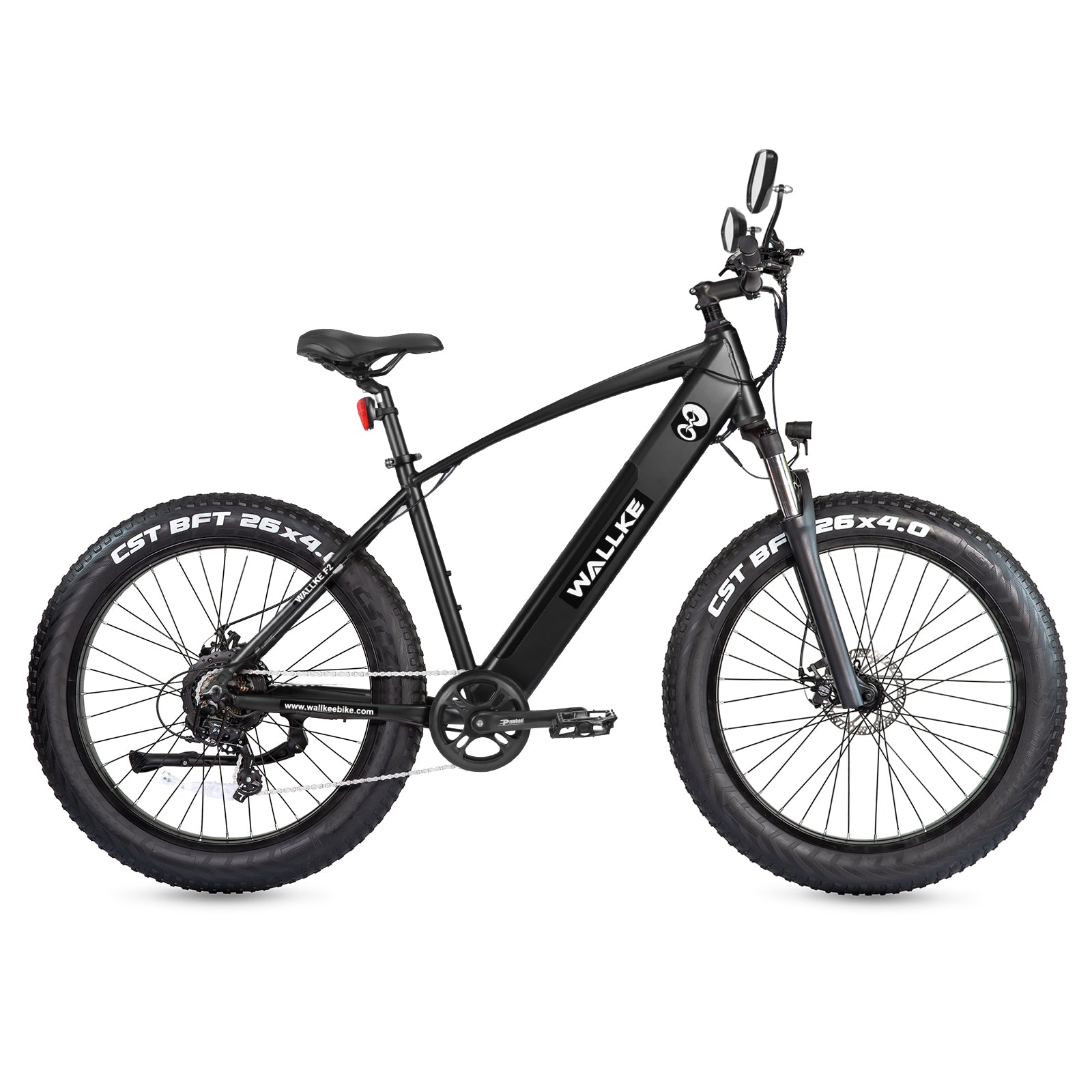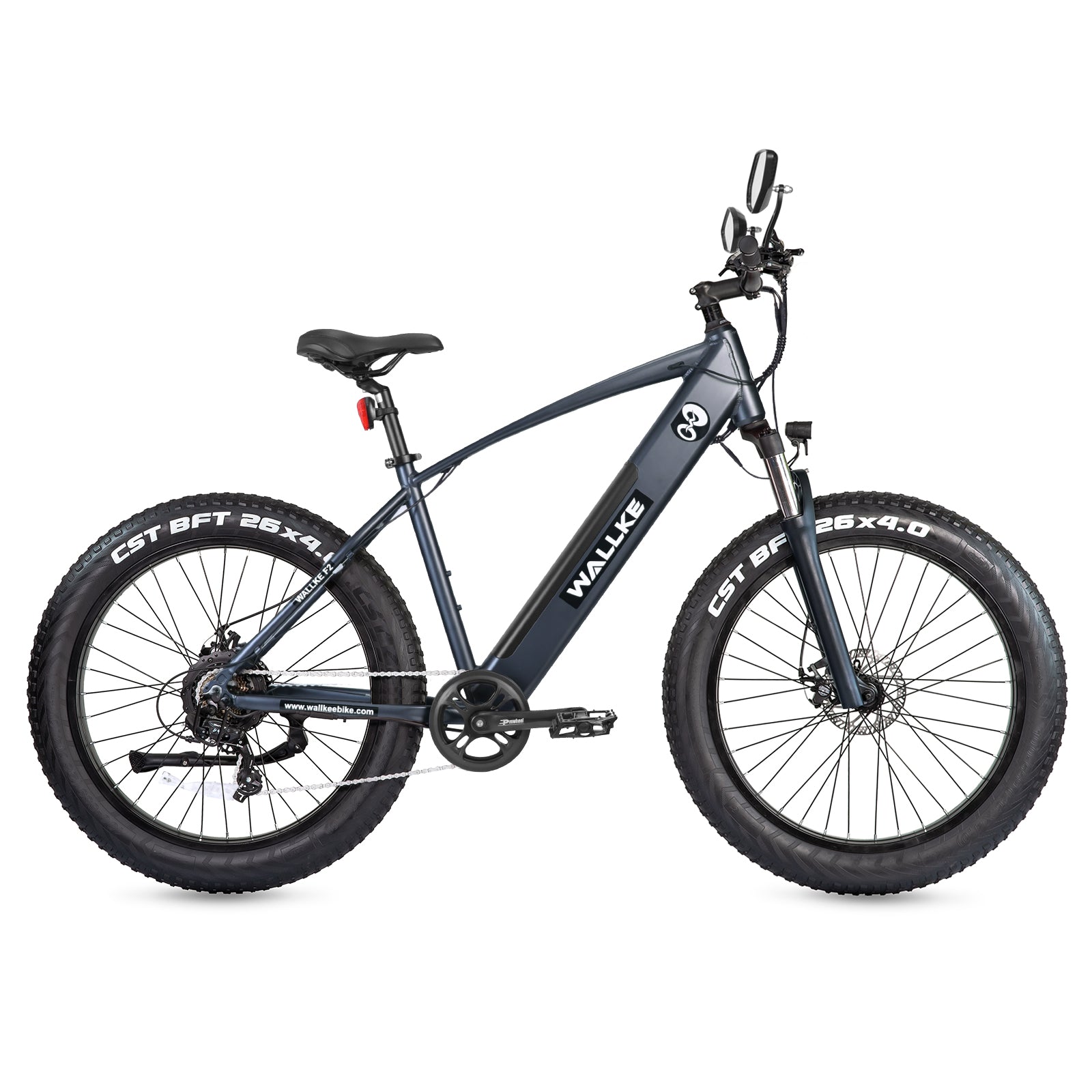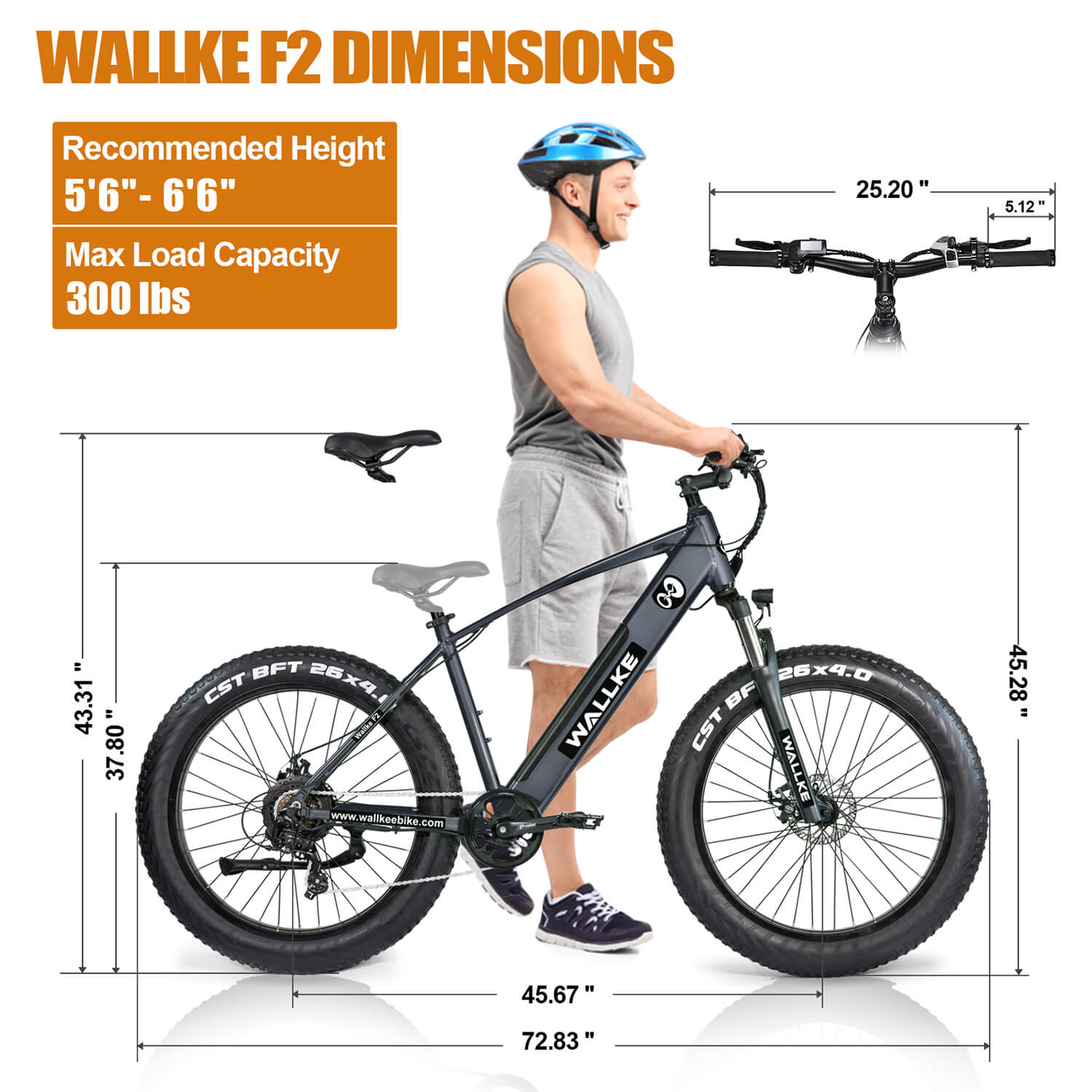 Wallke F2 Electric Fat Bike
---
Save $400 promo code: WK400
Special Offer
Free gift include bike mirrors, double barrel bike floor foot pump, bike lock cable and phone holder($129 value). 
● 48V 10.4Ah, 500W Class 2 with 5 level Pedal & Throttle Assists.
● 500 watt BAFANG motor
● Smart color display with password protect.
● Fully-integrated Battery design
● Shimano 7-speed.
● UL Certified Battery included.
FREE SHIPPING includes the 48 contiguous states but not Alaska, Hawaii, Puerto Rico and the other U.S. territories.

In-stock orders typically ship within 1-2 business days, unless otherwise noted on the product page.

Your order will be shipped from California.
Wallke eBike had partnered with Klarna to give you a better shopping experience. Ride Now, Pay Later with Klarna.

How to use?

Step 1: Add item(s) to your cart
Step 2: Go to checkout and choose the "Klarna" payment option.
Step 3: Complete your Klarna Credit application
Step 4: Use the Klarna app or log in on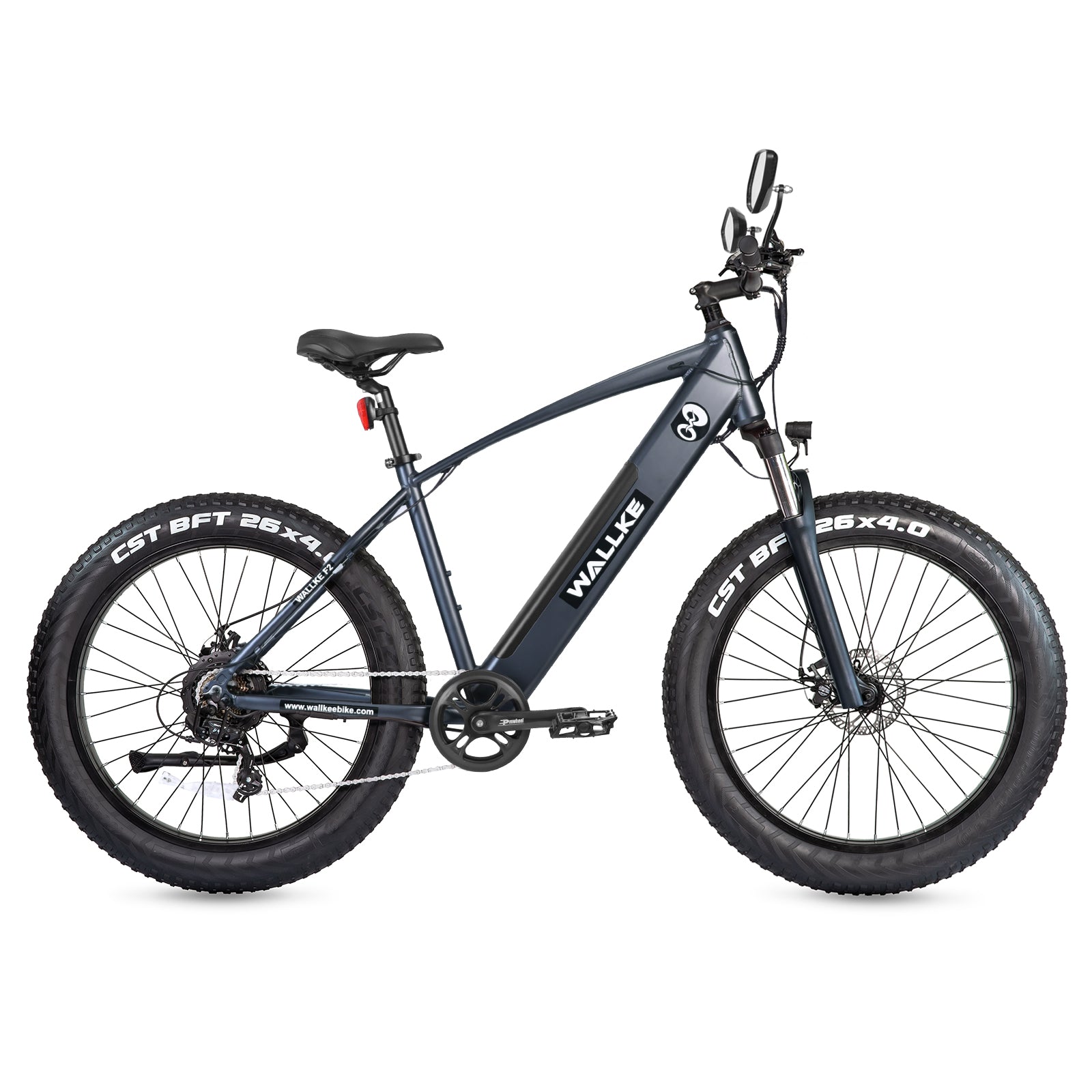 500W(1000W+ peak) Industry-leaders brushless geared rear hub 
This powerful motor can accelerate faster and reach higher top speeds, and allow riders to travel greater distances. For older riders, this e-bike make it easier to climb hills and navigate demanding terrain. If used as full electric, no sweating prior to your workday.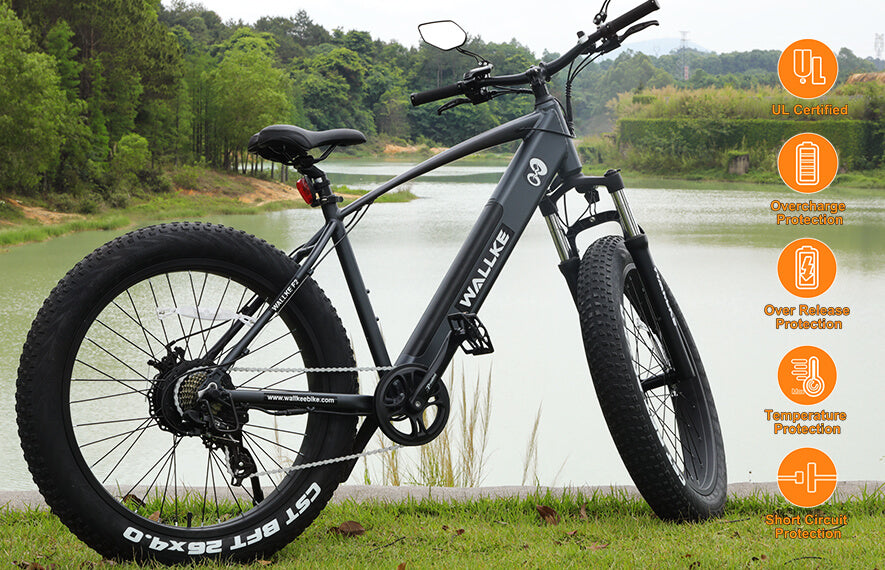 Internal 48V 10.4AH UL Certified Lithium-ion Battery
48V/10.4Ah UL Certified lithium-ion battery can reach up to 35 miles per charger in pedal assist mode. It can replace your car for getting around campus, to the grocery store, school, office, and to the gym!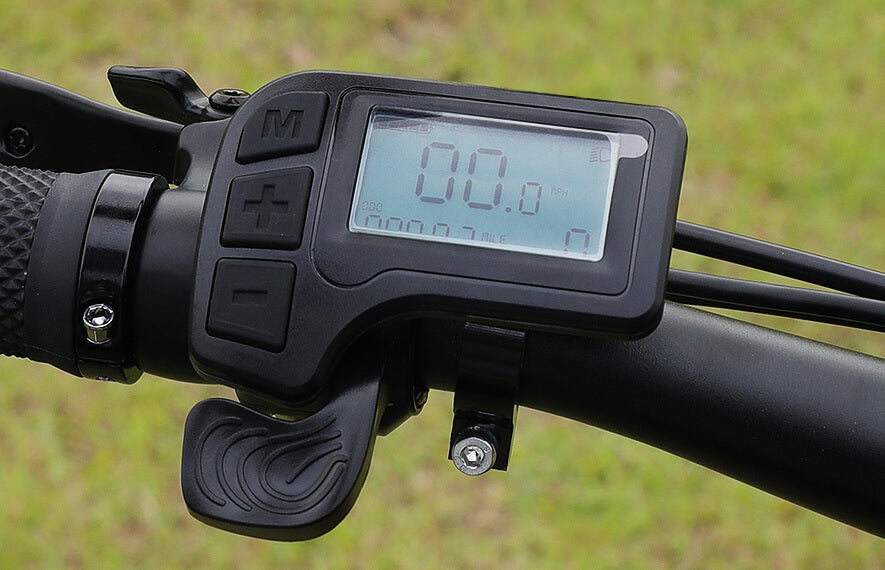 Multifunctional LCD display
With this intuitive display, you can get all the common parameters you need to know: speed, ODO, walk mode, pedal assist level indicator, trip time and trip information. You can set a password in your electric drive system so it cannot be started by an unauthorized person.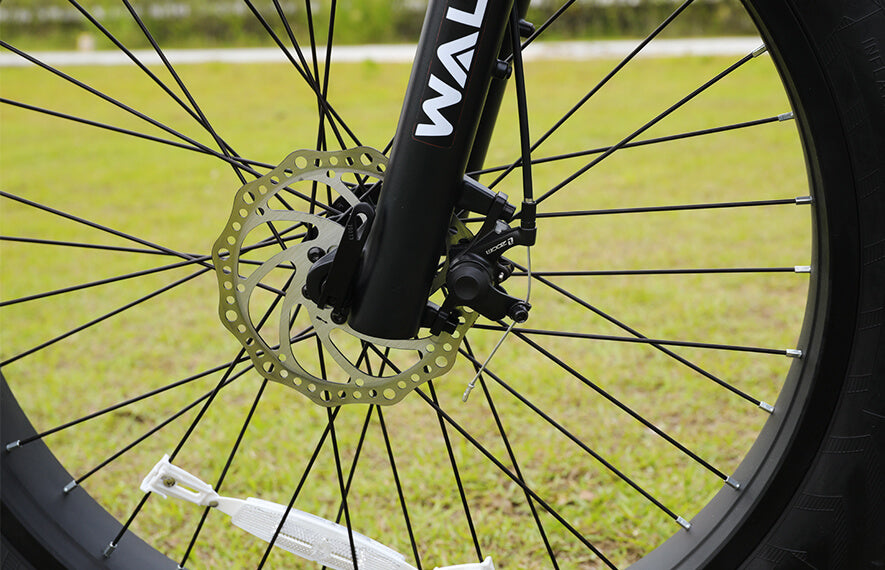 160mm Mechanical Disc Brakes Plus Front & Rear Light 
The dual mechanical disc brakes with built-in motor inhibitor can ensure you've got a shortest possible stopping distance, you will not dread the steep hills in your area. The front and rear light can increase your visibility when riding in low light conditions and other people on your back can see them clearly.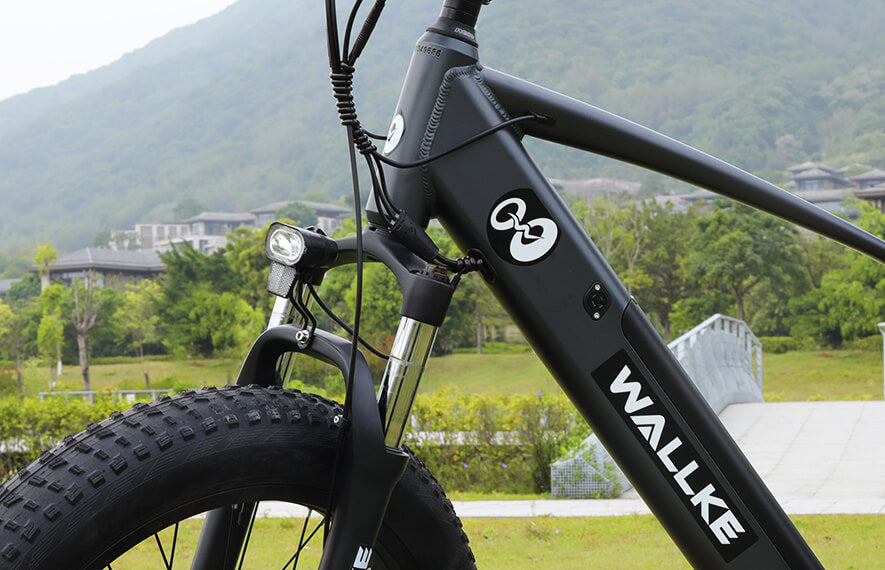 100MM Of Travel Adjustable Hydraulic Front Fork
The F2 is equipped with a 100 mm of travel hydraulic fork with the ability to adjust lockout and rebound damping. It can move up and down to cushion bumps in the riding surface, which can make riding on the dirt or gravel trails smoother and more comfortable.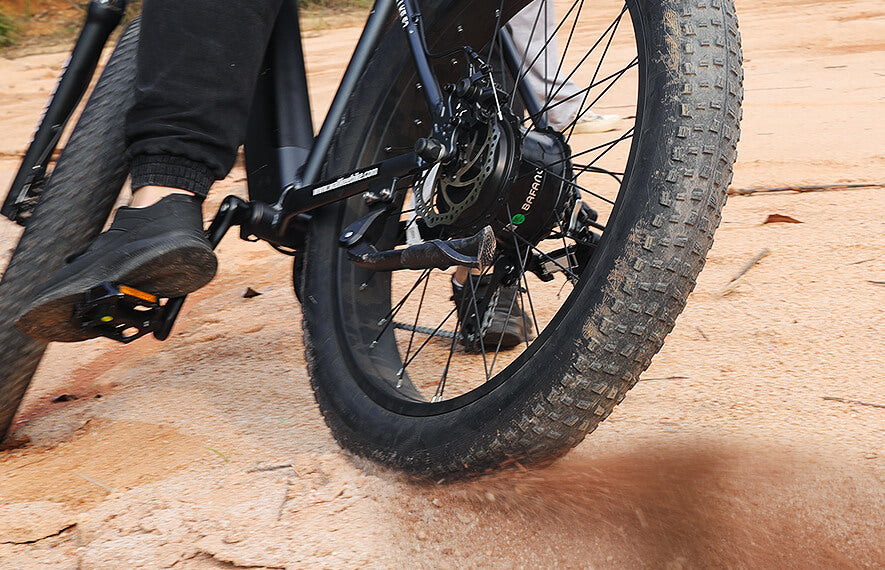 26 x 4" All Terrain Fat Tires
The F2 has 26" x 4" fat tires with inner tubes and a rim liner. They are designed for durability and safety for dense snow, water, soft sand and regular cycling activities. No need to find parking spot or be stuck in traffic for hours.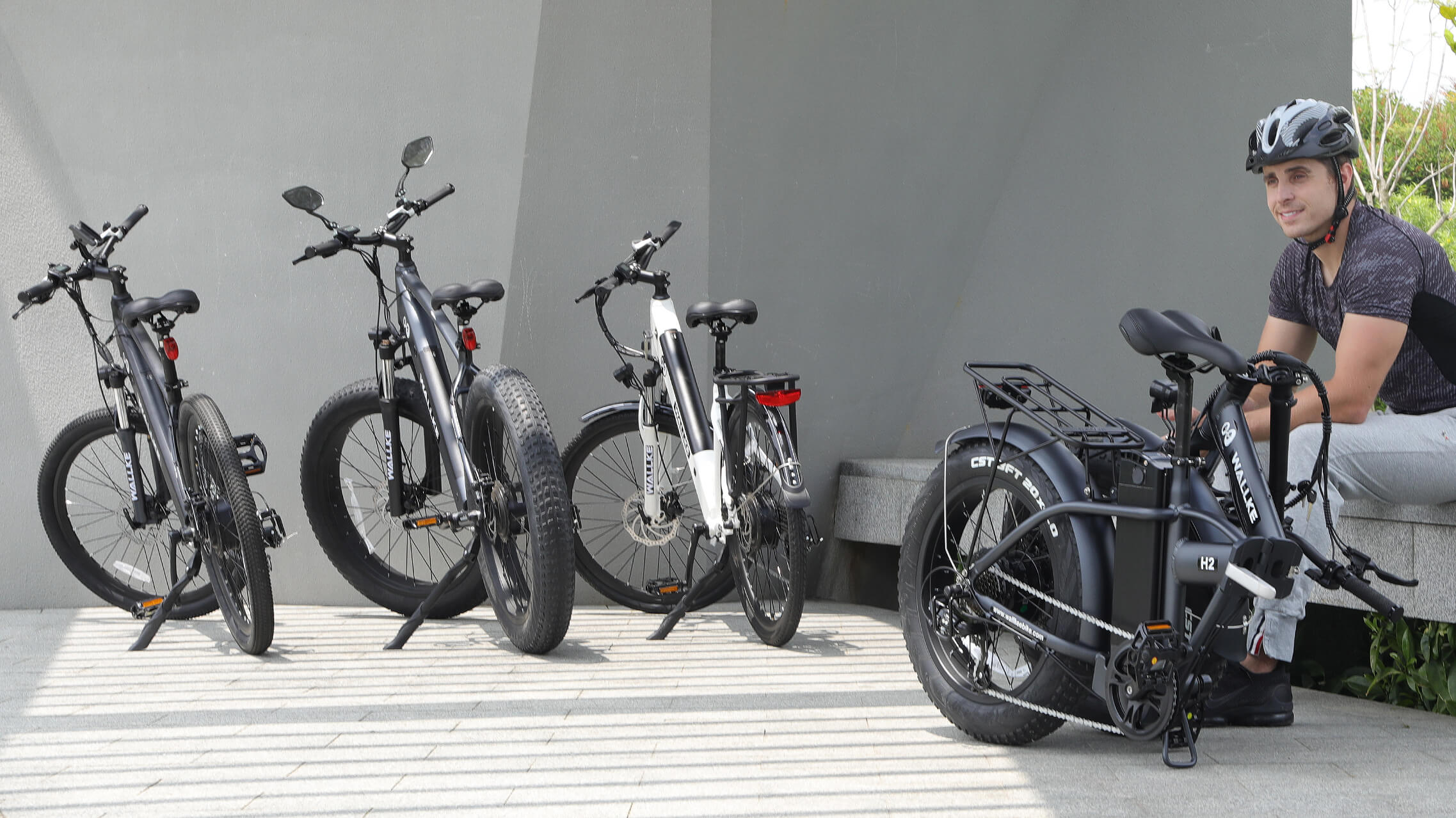 Unleash Your Power
Your Companion for Any Terrain, Anytime, Anywhere!
FAQ
Want to know more about the WALLKE F2? Check out our FAQs.
This owner's handbook includes assembly and maintenance work which may need to
be done at frequent intervals to maintain an operational and safe Wallke eBike. Never
perform work on your Wallke eBike beyond instructions in this handbook. Please read the instructions entirely before assembly to ensure the proper
functioning of the Wallke ebike.
Battery
Battery Charger
2 keys for Battery
Wallke Tires
Headlight
Tail Light
Saddle
Pedals
User Manual
Gifts (Option)
Assemble Tool Kits

Out of the box, the Wallke F2 is about 85% assembled. Simply attach the handlebars, front wheel and headlihgt, the seat post, the pedals, and you're ready to rock and roll.
This is the FAQ page for order-related & general questions.

1.What kind of payment method do you accept?

We accept Paypal and credit card payments, you can choose a method you like during checkout. In some case, your payment could be somehow denied at the checkout by our system in defense against possible credit card fraud. If you met this situation, please click here! 

Why My Card Was Declined?

The most common reason for an unsuccessful card payment is that your bank has declined it. Please contact your bank, let them know it is you making this payment. Once they've confirmed this transaction, your next attempt should be successful. If all else fails, you can switch to your other credit/debit card. Besides, If you have a Paypal account, try to pay by PayPal.

2. What is the overall height of the bike when it is folded up?

I am trying to determine if it will fit in the back of our SUV. All our bikes fold into half for easy transportation and storage. 

Folded: 39" L x 50" H x 34" / 99cm L x 127cm H x 86cm W

3. Will I receive the bike fully assembled?

The Wallke ebike will arrive at your doorstep 85% assembled. Unpacking and assembling will take about 10-20 minutes. All you have to do is mount the front wheel, handlebar, seat post, and pedals, and do a thorough check to ensure everything is tight. Fenders and rear rack will be preinstalled before packaging. You will find clear instructions and the necessary tools in the accessory box in your packaging. The process of assembled should not take longer than 25 minutes.

4. What kind of warranty does Wallke offer?

You can learn about our warranty by clicking here.

5. How long is shipping?

Please allow 1-2 business days to process your order after being placed online. Once the order is placed and delivery times will vary depending on where you live. About the detail of shipping, You can learn about our shipping policy by clicking - shipping policy

6. What if the products I received are damaged/defective?

If you receive a damaged/defective product, please fill in our customer support form to contact us or simply send an email to sales@wallkeebike.com. Please attach any relevant videos or photos showing your issue so the specialists can best assist you. 

7. I am very interested in your bike but want to make sure it will fit me.

Maximum payload weight limit: 280lbs

Dimensions: 77" L x 47" H x 27" W 195cm L X 120cm H X 69cm W
Recommend rider heights: 5'5" - 6'4"

Looking for the Size Guide? Click here 

8. Will the production bikes be exactly like the ones pictured?We reserve the rights to make modifications in the interest of delivering a better product to you. Since our first launch we have made tweaks and refinement to our eBike. We are continuously making improvement to the bike as we move towards production, so the bike you received might be slightly different but only better.9. Do I need a license to ride an ebike on road?

No. All the models of Wallke ebikes comply with the specifications of the US law and you do not need a license to ride it.
Need More Help?
Email: sales@wallkeebike.com
This product has no reviews yet.