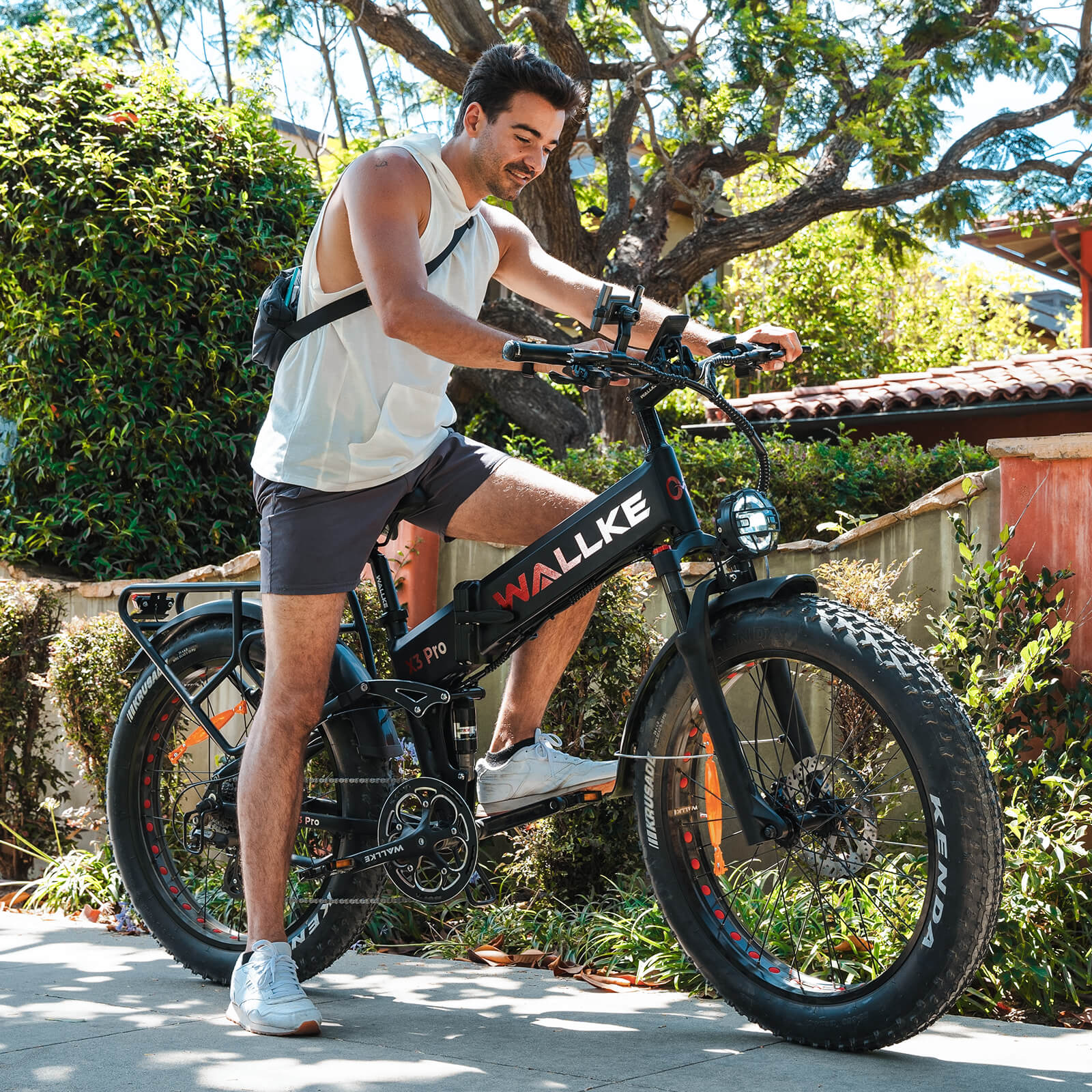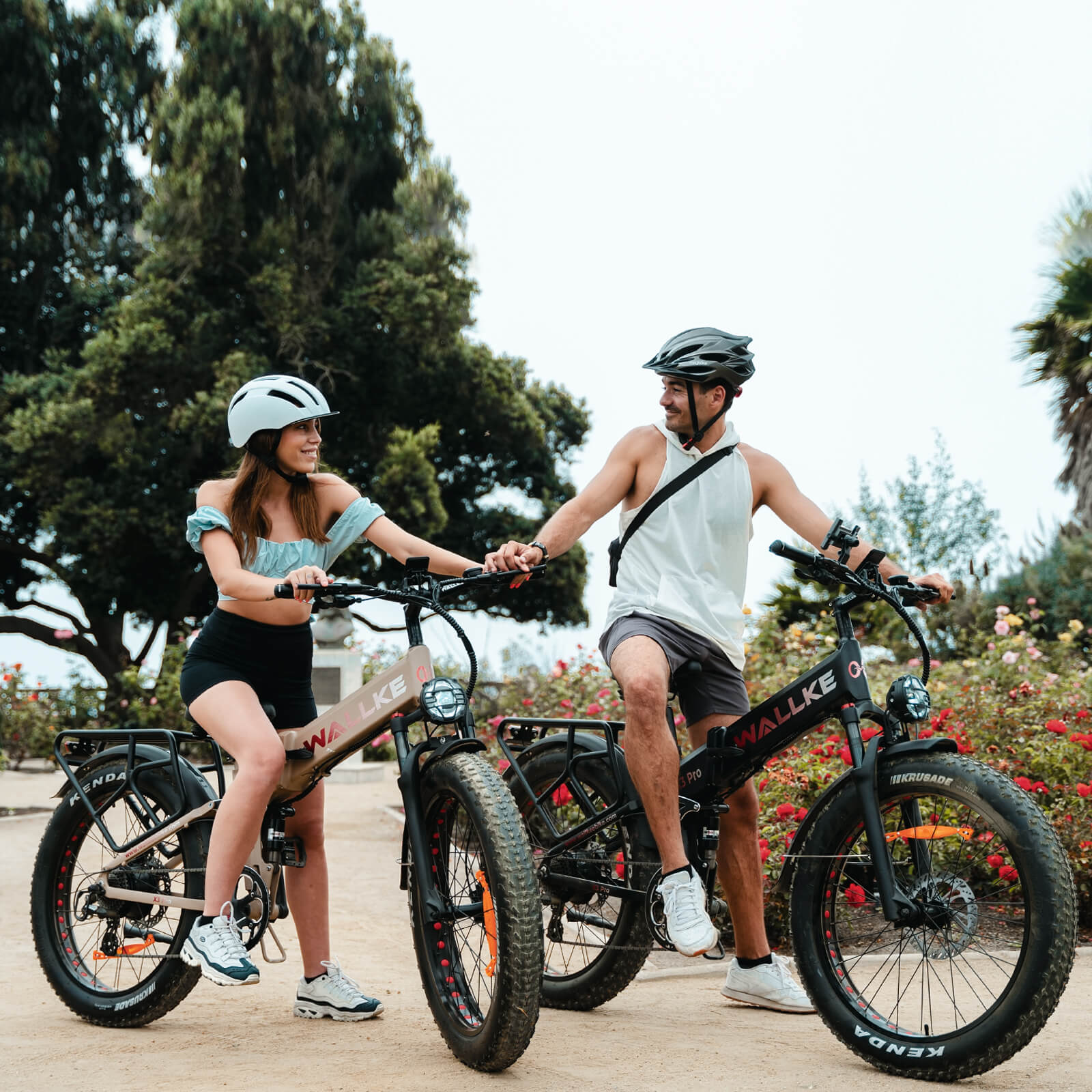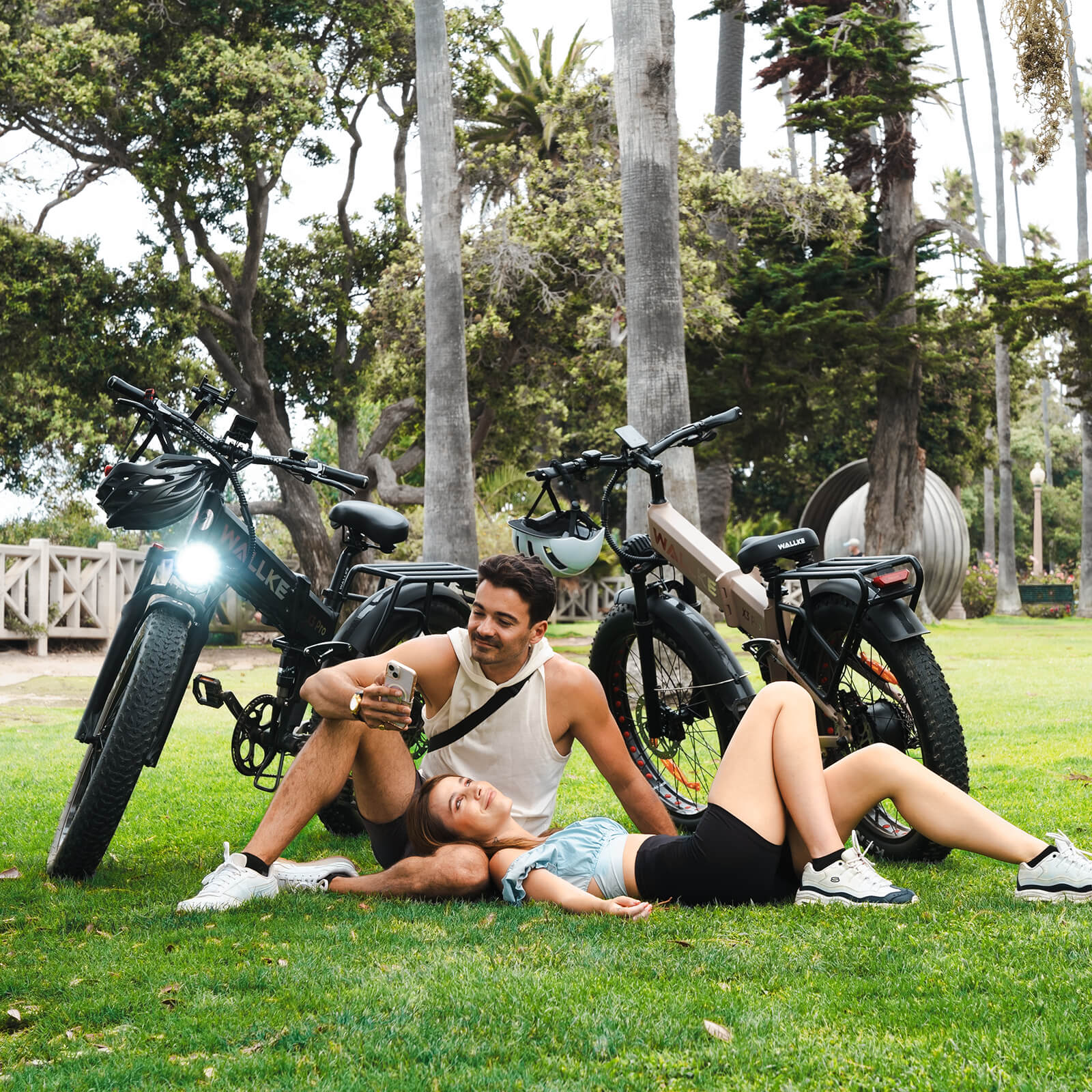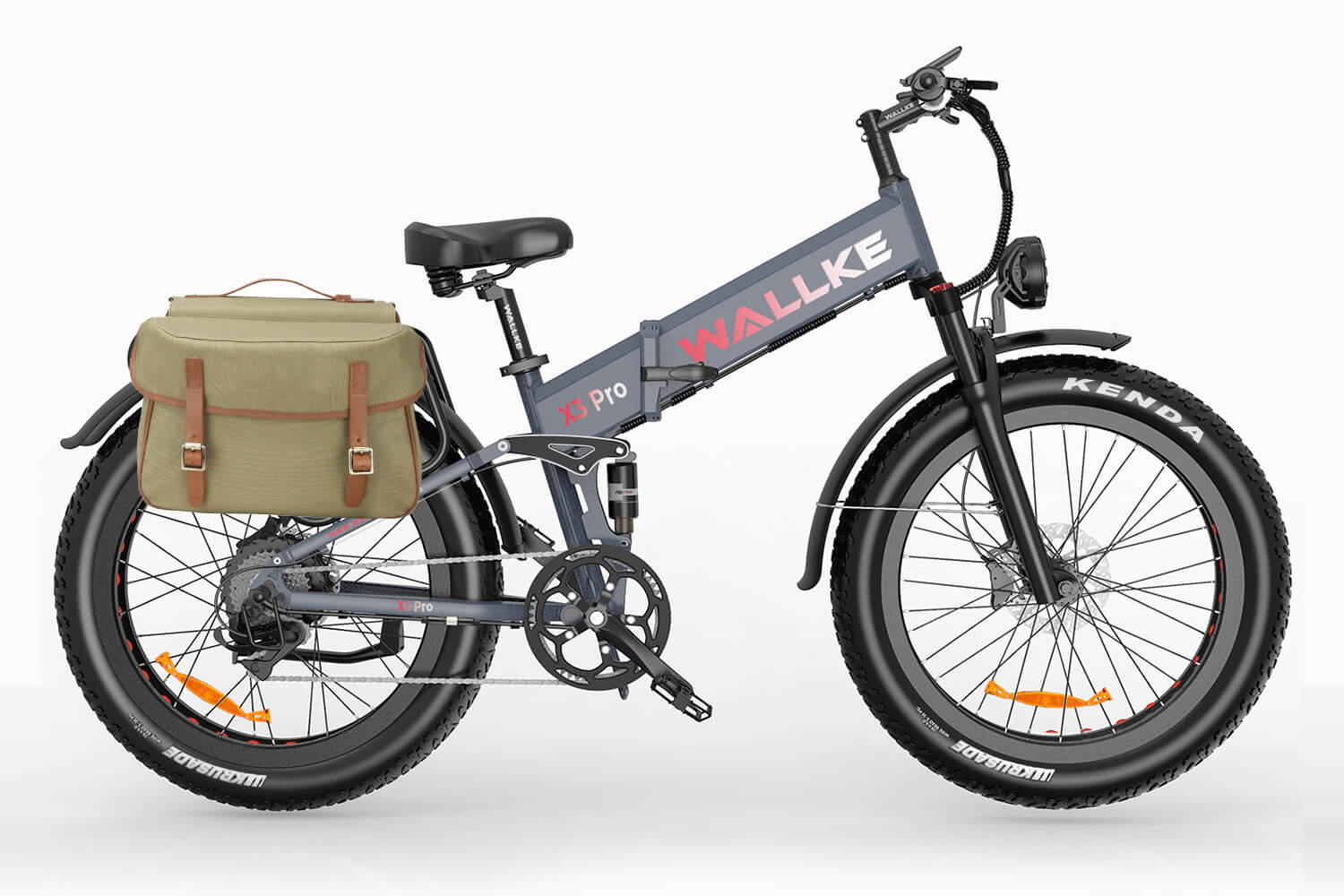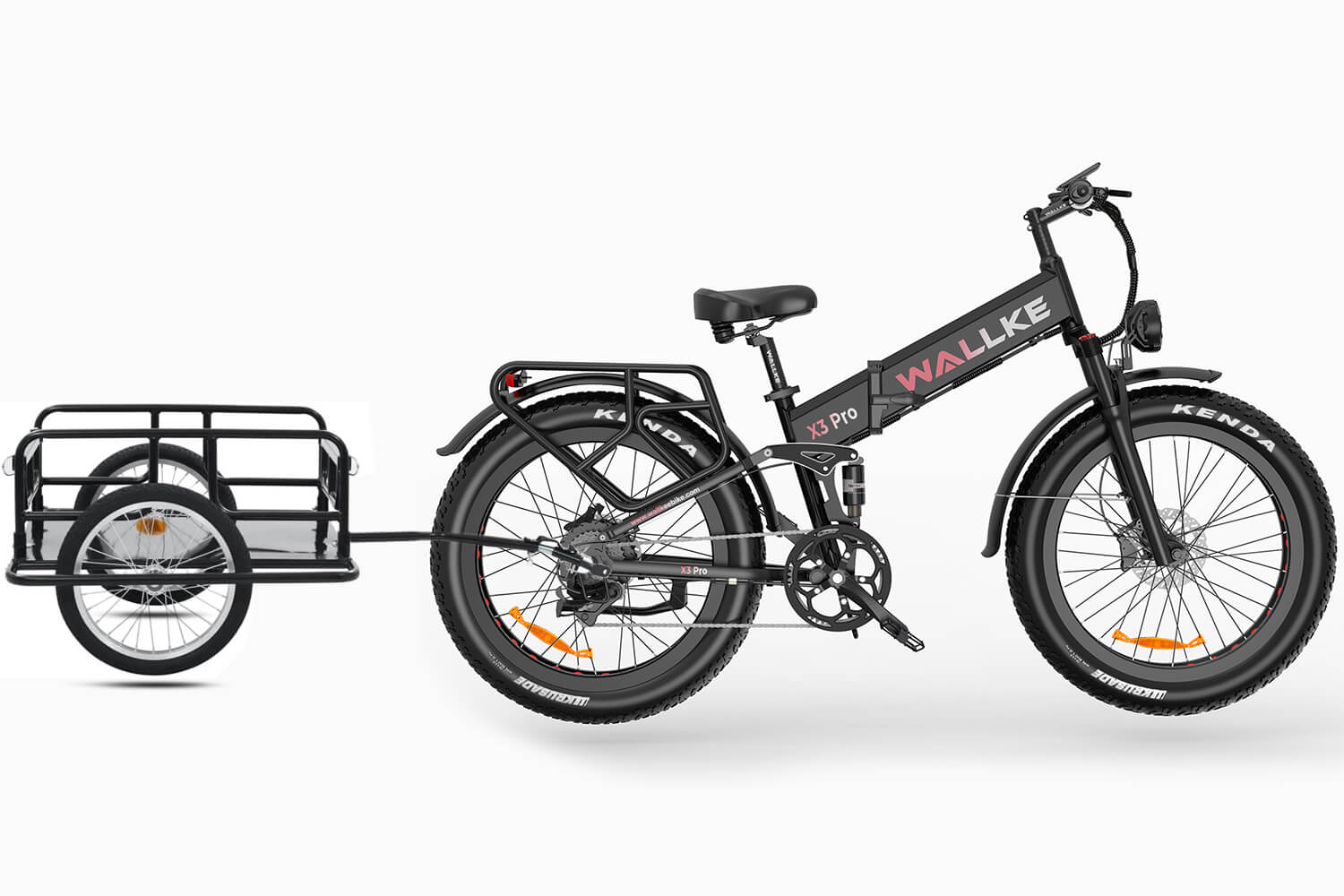 2023 Wallke X3 Pro
Full Suspension Long Range Fat Tire Electric Folding Bike
---
CODE: XMAS400
(Not available for "Bike with battery" option)
XMAS Price Protection
It is our lowest price of this year. Wallke offers price matching during Christmas. Grab yours today to avoid ecommerce shipping delays during Christmas
● 48V 20Ah, 750W Class 3 with 5 level Pedal & Throttle Assists.
●Hydraulic suspension, Four bar linkage rear suspension
● Smart color display with USB charging.
● Foldable frame with Fully-integrated Battery design
● Four-Pistons 203mm hydraulic disc brakes.
● Shimano 8-speed.
● UL Certified Battery included.
FREE SHIPPING includes the 48 contiguous states but not Alaska, Hawaii, Puerto Rico and the other U.S. territories.

In-stock orders typically ship within 1-2 business days, unless otherwise noted on the product page.

Your order will be shipped from California.
Wallke eBike had partnered with Klarna to give you a better shopping experience. Ride Now, Pay Later with Klarna.

How to use?

Step 1: Add item(s) to your cart
Step 2: Go to checkout and choose the "Klarna" payment option.
Step 3: Complete your Klarna Credit application
Step 4: Use the Klarna app or log in on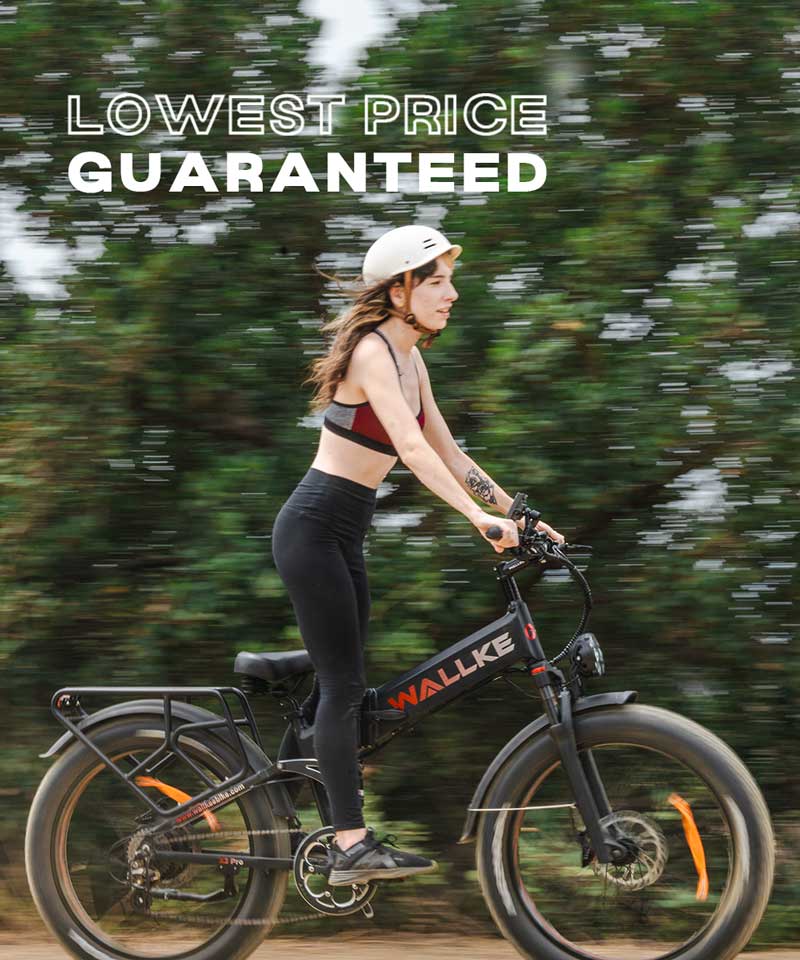 30 Days Price Match Guarantee
Wallke will honor a price adjustment, if price drops.
Lowest price of this year!
Avoid shipping delays
Be applicable to X3 Pro & H6 Series & H6 ST
Only for discounted ebike models
Starts from Nov 7, 2023
🎅XMAS🎅
Wallke X3 Pro
Unleash your adventurous side. Built for fun!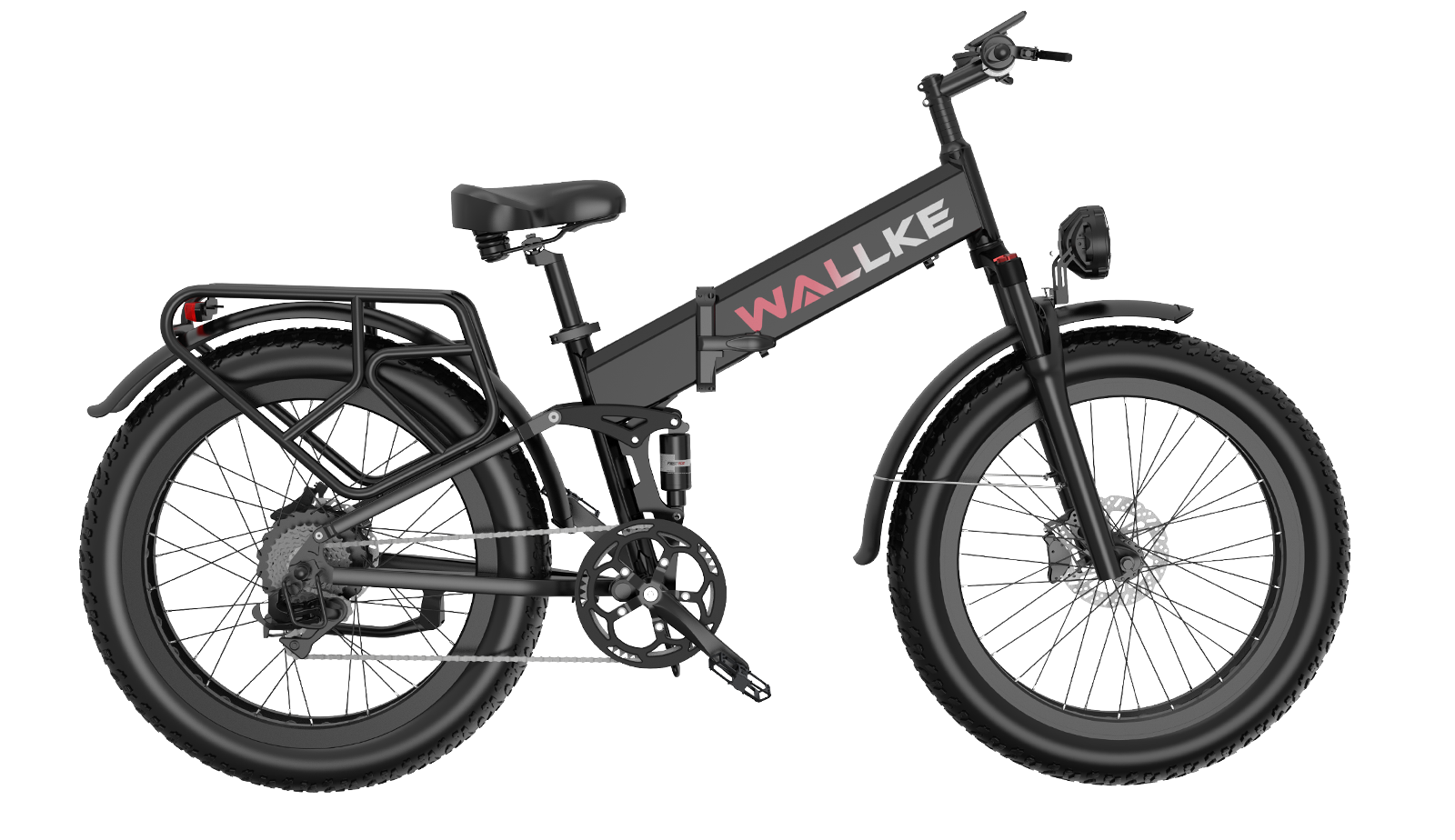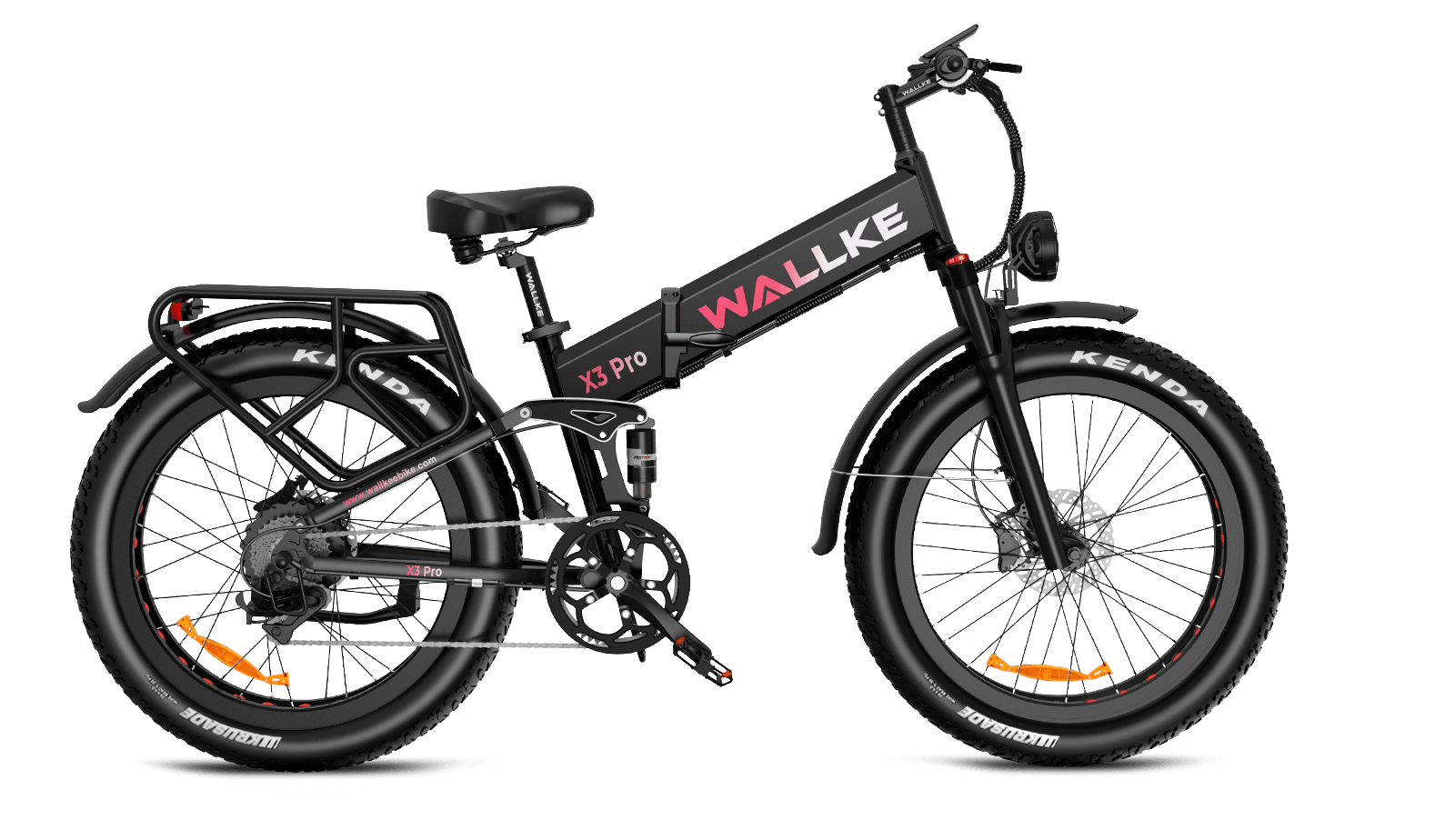 Full Suspension & Foldable Design
The 750W motor (Peak 1400W) have a high level of torque, which can make them well-suited for use in hilly or mountainous terrain. The motor drive is quiet, powerful, and surprisingly quick to accelerate to its maximum speed.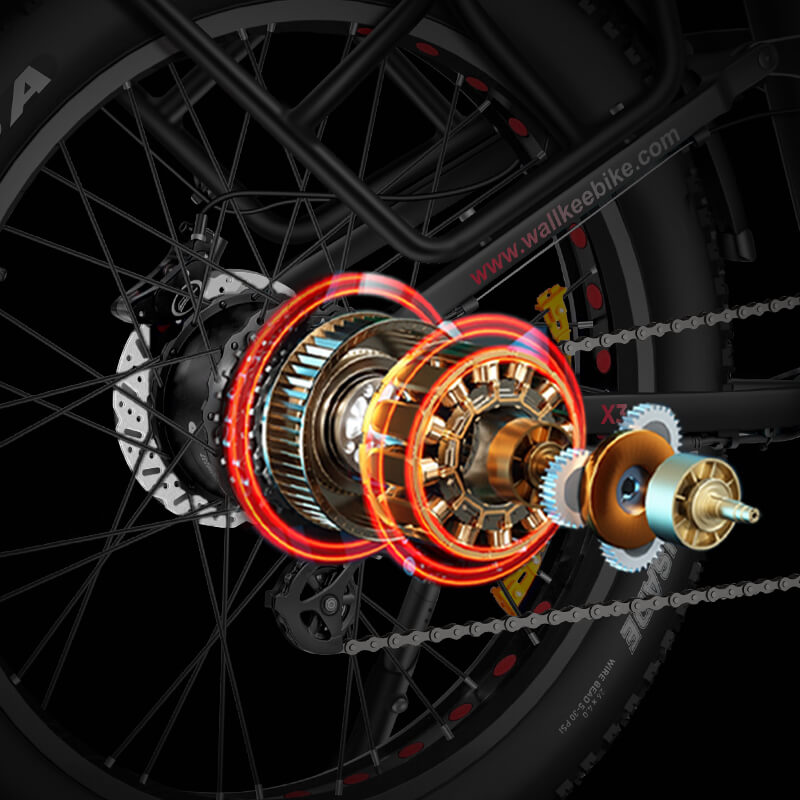 750 Watt Brushless Gear Hub Motor
The 750W motor (Peak 1400W) have a high level of torque, which can make them well-suited for use in hilly or mountainous terrain. The motor drive is quiet, powerful, and surprisingly quick to accelerate to its maximum speed.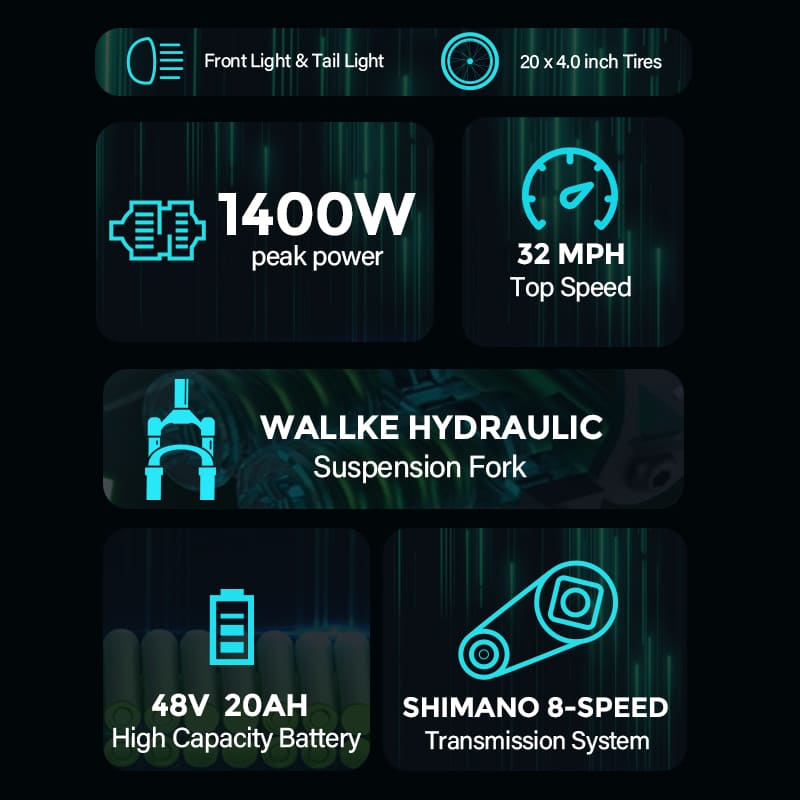 Full Suspension, Fat Tire Ebike
With a durable 6061 folding alluminum alloy frame, 26" x 4" all terrain fat tires, built-in front suspension, four bar linkage rear suspension, a powerful motor, and four-Pistons 203mm hydraulic brakes the Seeker can tackle anything in your way.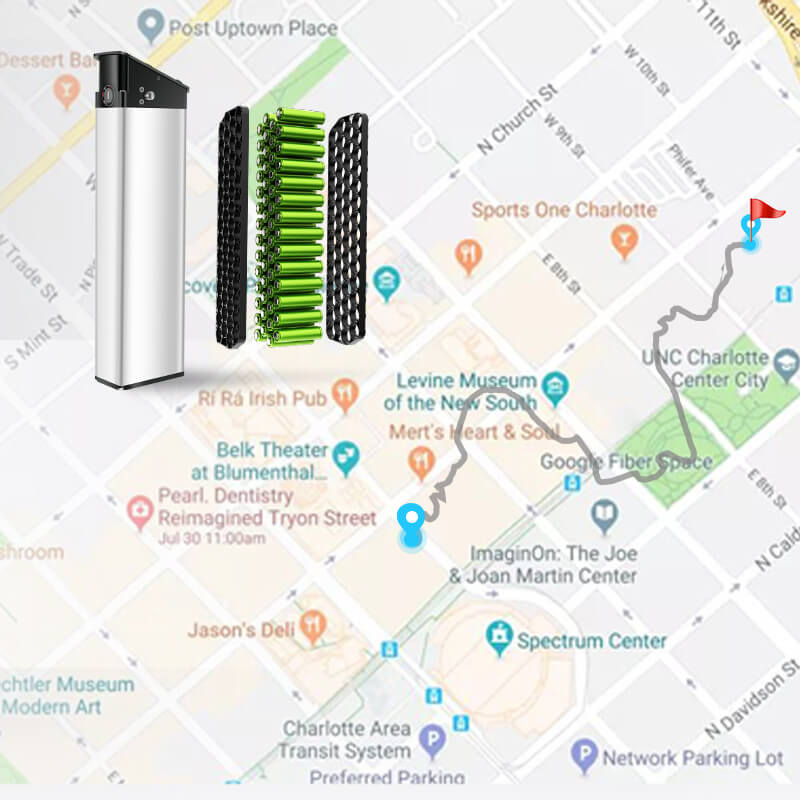 Removable 20Ah Samsung Cell Lithium-Ion Battery
Equipped with a hidden and removable 48V 20Ah battery pack made with Samsung Lithium-Ion cells, this long-range battery helps you get places you stressed going previously.
Premium Quality X3 Pro Ebike
Experience the freedom and excitement that come with every ride, making each moment on WALLKE eBike truly unforgettable.
Front Fork
X3-Pro features a flexible and adaptive hydraulic front fork that helps smooth bumps and improves off-road performance. In addition, the fork has a lockout lever to allow for quick adjustments while riding to stiffen or soften the fork, depending on weight and riding style.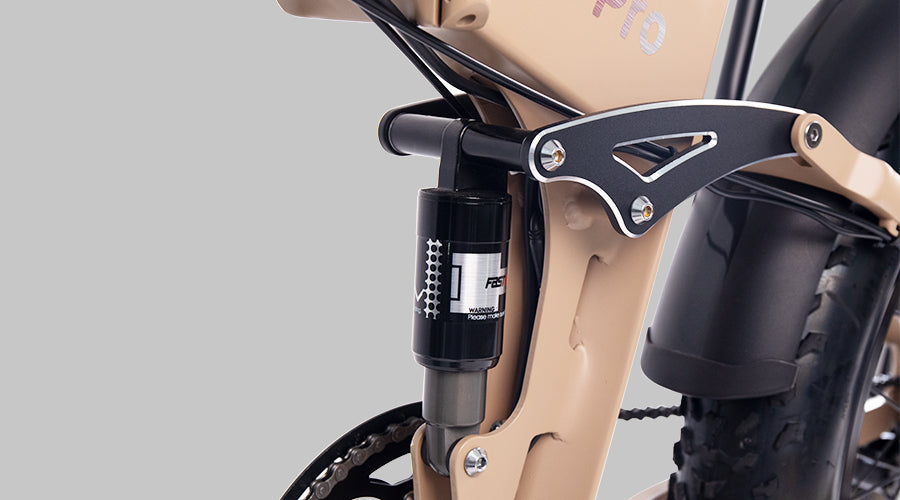 Rear Shock
Four-link rear shock - designed for road, mountain, city traffic and trails, giving you a better and more stable ride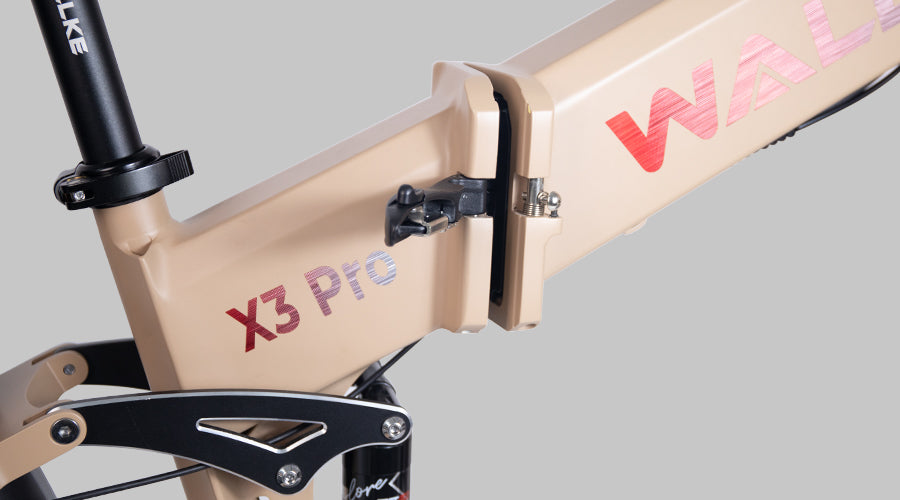 Foldable Frame
FOLDABLE FRAME DESIGN - Folds up in seconds! It saves space and is convenient to place, making your travel easier and more convenient
Rear Derailleur
Whether you're out for a long ride or have a nasty hill along your normal commute, if you have a bike with pedal assist you'll finish your ride feeling more energized instead of drained. Going over rough terrain and up hills becomes much easier with the pedal assist feature.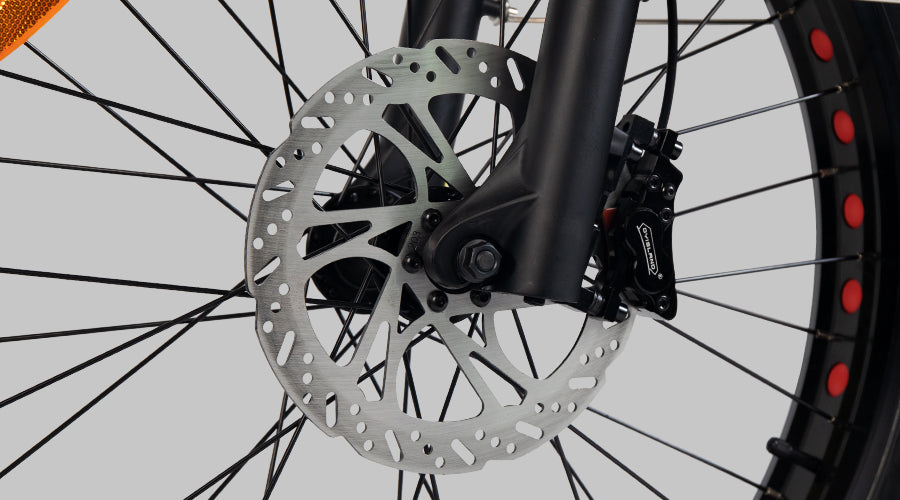 Brakes
203mm Hydraulic Disc Brakes-Double hydraulic disc brakes can offer incredible power to give you the maxmium brake force at higher speed, even in loose terrain.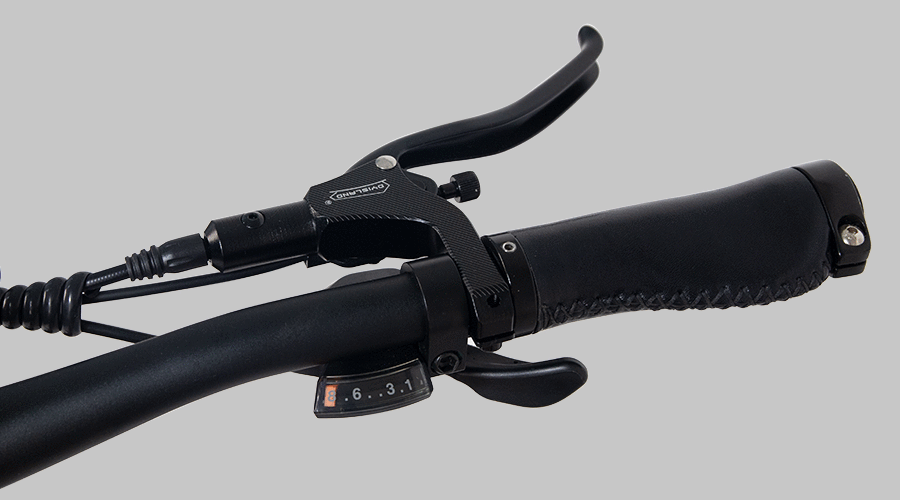 Shifter
The shift finger paddle is semi-hidden for easy operation by the rider, easily changing the gear size to allow the rider to choose the intensity of the ride they want.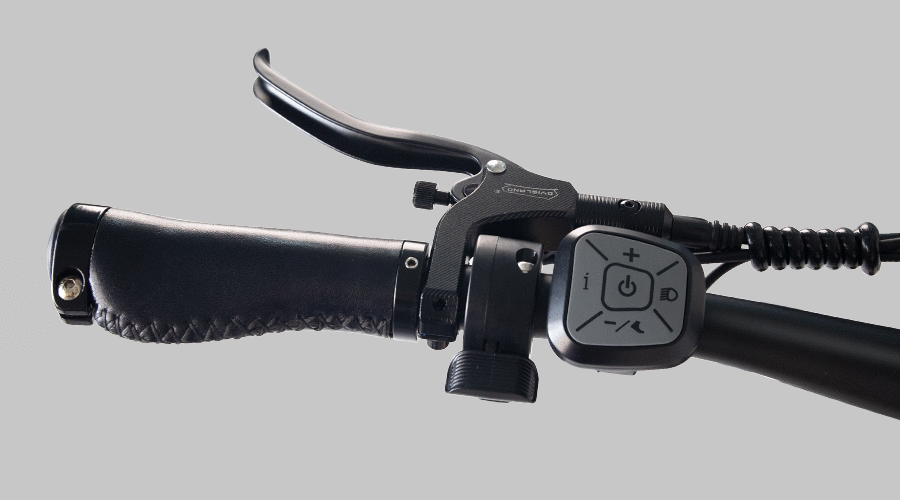 Throttle
The thumb throttle is more comfortable and safer than the half-twist throttle, and it can reduce wrist strain and eliminate the fatigue brought by long time riding.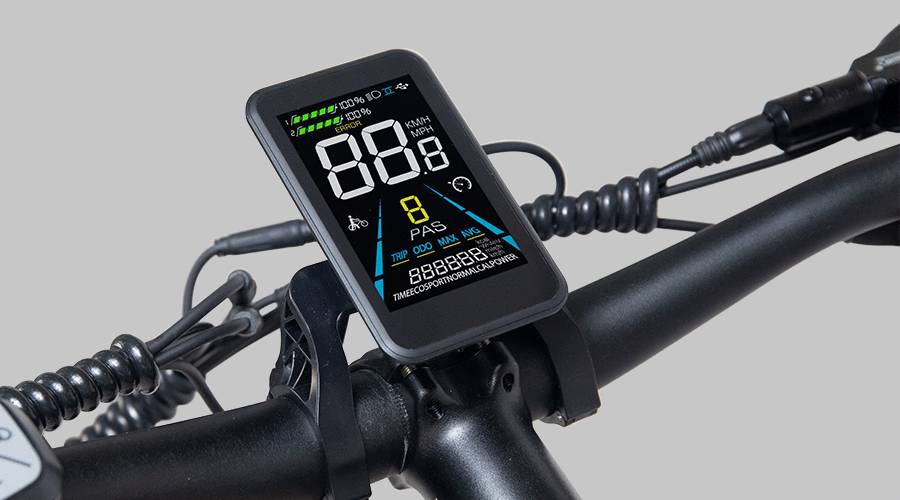 Display
Wallke X3 Pro - Smart Display will provide us with all important parameters: speed, mileage, ride time, motor, ODO, battery level and power assist. It has a brightness sensor that detects ambient light and adjusts the brightness of the display accordingly, which makes reading easier while driving.
Headlight
We upgraded the headlight to motorcycle style. It's bright enough to see far enough ahead to go anywhere quickly.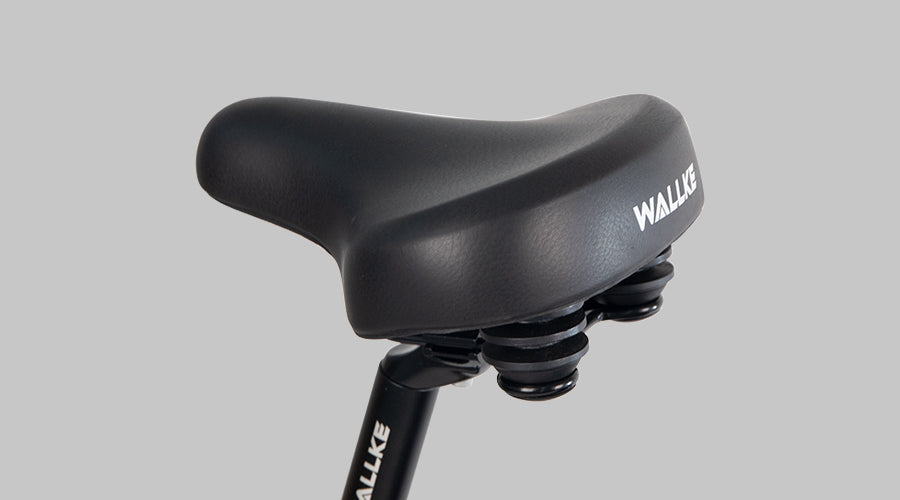 Cushion
Set in softer leather, this bike saddle is ergonomically designed to help dampen the effects of shocks and silicone for extra comfort, making it a great choice for long rides.
Price
$1799 (Super Early Price)
$1699 (Super Early Price)
$1799 (Super Early Price)
Brake
Two-Pistons 160 Mm Rotors Hydraulic Disc Brakes
Two-Pistons 180 Mm Rotors Hydraulic Disc Brakes
Four-Pistons 203 Mm Rotors Hydraulic Disc Brakes
Display
LCD Smart Easy Read Display With Backlight, Colorful Screen
LCD Smart Easy Read Display With Backlight, Colorful Screen
LCD Smart Easy Read Display With Backlight, Colorful Screen
Frame
6061 Aluminum Alloy, Folding
6061 Aluminum Alloy, Folding, Smooth Weld
6061 Aluminum Alloy, Smooth Weld, Foldable, Thickened
New eBike, New Questions
Want to know more about the WALLKE X3PRO? Check out our FAQs.
Motor: 750W (1400W+ peak) brushless geared rear hub,  80N.M
Battery: 48V/ 20Ah Samsung Cell Li-Ion battery, total 960Wh Capacity 
Charger: 48V 3Amps Fast charger
Controller: 48V/28A
Display: Full color smart LCD display with USB port 
Front Light: 48V motorcycle LED front light
Tail Light: Integrated tail light with brake signal
Pedal Assist: 5 Levels assist, ECO mode, Sport mode
Charge Time:  3-5 hours
Climbing Angle: 30+ degrees
Maximum payload weight limit:  350 lbs / 158 kg
Folded Size: 39" L x 27" W x 31"H /100cm L x 70cm W x 80cm H
Shipping box dimensions: 63 x 13  x 34 IN / 159 x 32 x 86 CM
Rear rack payload: 55 lbs / 25 Kg
Best Uses: Premium heavy-duty bike for on- and off-road riding
Recommended Rider Heights: 5'6" ~ 6'5"

Component & Info

Fork: 26" hydraulic suspension with lock and adjust controls
Rear Shock: Four-bar linkage suspension
Tire: 26" x 4" all terrain fat tires
Rear Derailleur: Shimano 8-speed rear shift system
Frame: 6061 aluminum alloy, smooth weld, foldable 
Brake: Four-Pistons hydraulic disc brakes
Freewheel: 8 Speed Freewheel
Rotor: Front-203mm,  rear-203mm, massive rotors

Fenders: Included
Rear Rack: Included
Saddle: Suspension cruiser saddle
Seat Post: Aluminum alloy seat post 
Cable: Integrated waterproof cable
Throttle: Thumb throttle with horn
Sensor: Cadence sensor
USB Port: Included
Bike Weight: 85 lbs / 39 kg 
Battery Weight: 11 lbs / 5 kg
This is the FAQ page for order-related & general questions.

1.What kind of payment method do you accept?

We accept Paypal and credit card payments, you can choose a method you like during checkout. In some case, your payment could be somehow denied at the checkout by our system in defense against possible credit card fraud. If you met this situation, please click here! 

Why My Card Was Declined?

The most common reason for an unsuccessful card payment is that your bank has declined it. Please contact your bank, let them know it is you making this payment. Once they've confirmed this transaction, your next attempt should be successful. If all else fails, you can switch to your other credit/debit card. Besides, If you have a Paypal account, try to pay by PayPal.

2. What is the overall height of the bike when it is folded up?

I am trying to determine if it will fit in the back of our SUV. All our bikes fold into half for easy transportation and storage. 

Folded: 39" L x 50" H x 34" / 99cm L x 127cm H x 86cm W

3. Will I receive the bike fully assembled?

The Wallke ebike will arrive at your doorstep 85% assembled. Unpacking and assembling will take about 10-20 minutes. All you have to do is mount the front wheel, handlebar, seat post, and pedals, and do a thorough check to ensure everything is tight. Fenders and rear rack will be preinstalled before packaging. You will find clear instructions and the necessary tools in the accessory box in your packaging. The process of assembled should not take longer than 25 minutes.

4. What kind of warranty does Wallke offer?

You can learn about our warranty by clicking here.

5. How long is shipping?

Please allow 1-2 business days to process your order after being placed online. Once the order is placed and delivery times will vary depending on where you live. About the detail of shipping, You can learn about our shipping policy by clicking - shipping policy

6. What if the products I received are damaged/defective?

If you receive a damaged/defective product, please fill in our customer support form to contact us or simply send an email to sales@wallkeebike.com. Please attach any relevant videos or photos showing your issue so the specialists can best assist you. 

7. I am very interested in your bike but want to make sure it will fit me.

Maximum payload weight limit: 280lbs

Dimensions: 77" L x 47" H x 27" W 195cm L X 120cm H X 69cm W
Recommend rider heights: 5'5" - 6'4"

Looking for the Size Guide? Click here 

8. Will the production bikes be exactly like the ones pictured?We reserve the rights to make modifications in the interest of delivering a better product to you. Since our first launch we have made tweaks and refinement to our eBike. We are continuously making improvement to the bike as we move towards production, so the bike you received might be slightly different but only better.9. Do I need a license to ride an ebike on road?

No. All the models of Wallke ebikes comply with the specifications of the US law and you do not need a license to ride it.
Battery
Battery Charger
2 keys for Battery
Wallke Tires
Fenders
Integrated Rear Rack
Headlight
Integrated Tail Light
Saddle
Pedals
User Manual
Gifts (Option)
Assemble Tool Kits

Out of the box, it's about 85% assembled. Simply attach the handlebars, front wheel and headlihgt, the seat post, the pedals, and you're ready to rock and roll.
This owner's handbook includes assembly and maintenance work which may need to
be done at frequent intervals to maintain an operational and safe Wallke eBike. Never
perform work on your Wallke eBike beyond instructions in this handbook. Please read the instructions entirely before assembly to ensure the proper
functioning of the Wallke ebike.
Need More Help?
Email: sales@wallkeebike.com
This product has no reviews yet.