Wallke X3 Pro – New for 2023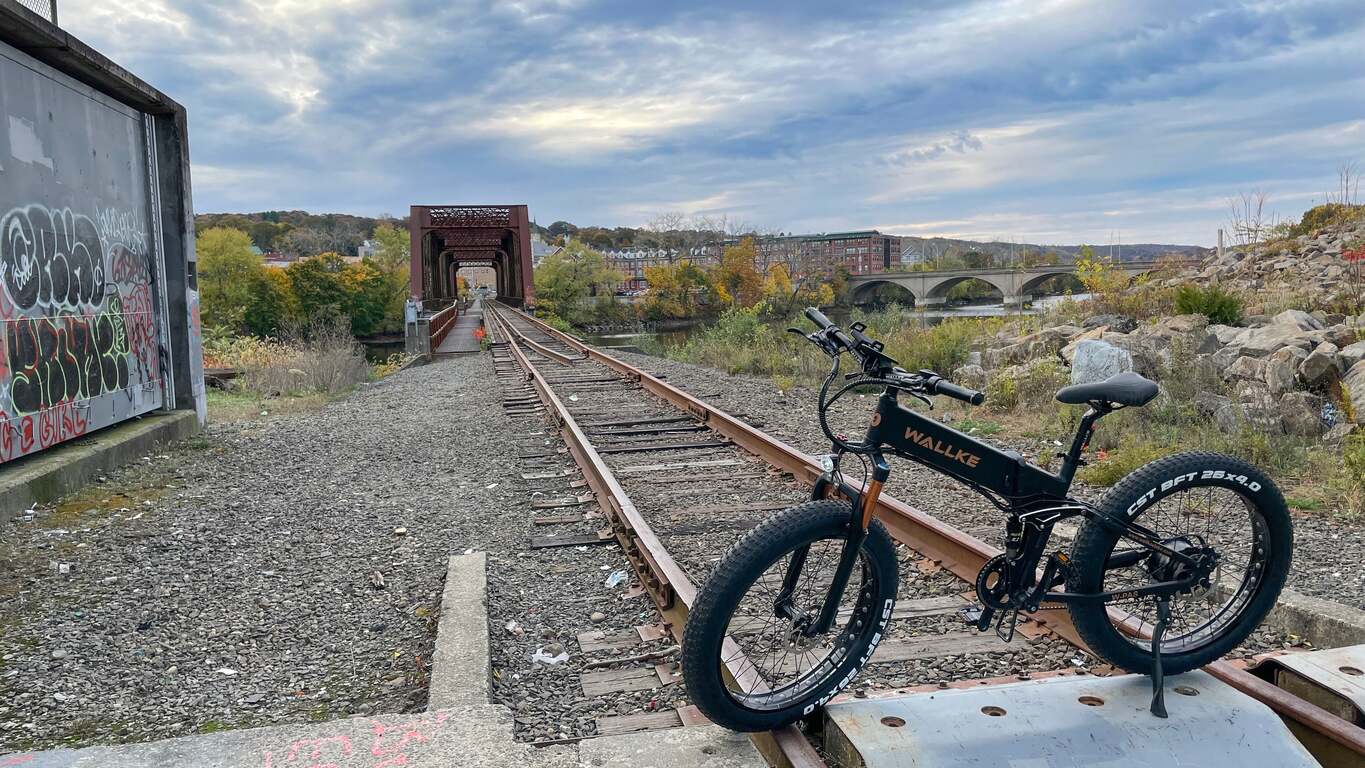 We released our latest ebike model, the 2023 Wallke X3 Pro, in December 2022. Compared to the 2021 Wallke X3 Pro, the 2023 version has primarily incremental upgrades. In this article, we will give you some definitive points to help you know more about their differences.
Frame
| | |
| --- | --- |
| new HD folding frame | The all-new frame is much beefier, with upgrades to the hinge and hinge lock.  This accommodates the larger battery and delivers an increase in payload to 350lb. |
| new front suspension | They've changed the front forks from air suspension to coil suspension.  This simplifies maintenance, and eliminates the need for a special pump to maintain air pressure.  The preload can now just be dialed in, rather than needing air pressure adjustments. |
| improved polymer fenders | The bike has improved polymer fenders, with better mounting.  The polymer makes them lighter, quieter, and tougher.  The improved versions include a new bracket from the rear fender to the carry rack which makes a much more solid mount. |
| sprung seat | The new model comes with a wide, padded sprung seat, which adds another level of comfort to the bike.  In the past riders would swap in an aftermarket seat to improve ride comfort, and I'd say there's no longer a need, or a benefit, in doing so. |
Running Gear
| | |
| --- | --- |
| more powerful motor and controller | The 2023 X3 Pro has a more powerful motor (1400W peak) and an upgraded controller necessary to handle the higher current (28A).  This delivers more torque, and higher speeds.  In my testing, the bike gained about 5MPH over the previous model. |
| upgraded brakes | For added safety, the bike has the super-duty hydraulic brakes from the H6 model.  The brake discs look like what you'd find on a sports car, and make the terrific 180mm discs on the 2021 model look downright dainty in comparison.  The new bike has unrivalled stopping power. |
| upgraded chainring | To properly match the increased motor performance, the chainring (front sprocket) has been upgraded to a larger 52T version.  This is a much better match between pedaling and motor power at the top end, so the rider can contribute more to the bike's motive power. |
Electronics
| | |
| --- | --- |
| new display | The bike has a new multi-mode display.  It can be configured to run as a digital display with speed, power and battery charge state on a circular ring, along with all the operating parameters and indicators (like headlight, cruise control, walk mode and other useful items.  It also adds eight internal parameters like motor voltage and current, temperature and others.  Alternatively, you can set a beautiful analog dial with several pointers for speed, power and battery as well as the eight internal parameters. |
| more battery capacity | The 2023 model has a larger 20Ah battery, supporting higher performance and longer range. |
| new headlight | There's a shaped projector-beam LED headlight with a flat top on the beam pattern.  This directs all of the light beam out on down the road without putting any of the energy into the eyes of on-coming traffic. |
| new tail light / brake light | New is a beautiful tail light / brake light with the same bright, even lighting as on modern cars.  This is an important addition for road safety. |
| key switch | The bike has a key switch which is needed for the motor and electronics, adding a level of security. |
| new horn | Finally, the bike now has a pretty effective electronic horn. |
| lower price | To make it affordable for more people, the MSRP has been lowered from $2399 to $1999. |
#1 Design
At first glance, you may be able to tell the difference between them. The 2023 Wallke X3 Pro use more durable materials to can make them slightly heavier and stronger. This ensures it's sturdy with an increased carrying capacity of 350 lbs.  
#2 Power
Both models have the 750 watt motor with 48V controller. However, the 2023 version is better in most aspects. The motor peak was increased from 1000 watt to 1400 watt. It have a high level of torque, which can make them well-suited for use in hilly or mountainous terrain. 
#3 Range
We bumps up the battery capacity from 672mAh to 960mAh. This long-range battery helps you get places you stressed going previously. The 2023 version offered a 3A smart charger, which can add up to a 100 percent charge in 5 hours.
#Safe
New with this model is a gorgeous tail light and brake light, with the smooth, even lighting you see on luxury cars. It makes your night riding much more enjoyable and much easier to see at night.
We upgraded it from base Wallke X3 Pro to be attractive to the more sports minded outdoor enthusiast. We love you guys! E-bikes are our strange addiction.  We remain committed to delivering high quality, long range, fun & purposeful e-bikes for many years to come. 
See how they compare.
| | | |
| --- | --- | --- |
| SUMMARY | 2021 Wallke X3 Pro | 2023 Wallke X3 Pro |
| MOTOR | 750 watt rear hub motor | An upgraded 750W brushless geared hub motor |
| PEAK OUTPUT | 1000 watts | 1400 watts |
| CONTROLLER | 48V 20A controller | 48V 30A upgraded controller |
| FRAME | 6061 aluminum alloy | Durable 6061 aluminum alloy |
| RANGE | Up to 50 miles | Up to 80 miles |
| BATTERY | 48V 14AH,672 mAh | 48V 20AH,960 mAh |
| CHARGER | 2.0 A smart charger | 3.0 A fast smart charger |
| TAIL LIGHT | NA | Tail light with brake signal |
| BRAKE | Hydraulic disc brakes | Hydraulic disc brakes with massive rotors |
| SEAT | Quality ergonomic saddle | Wider suspension cruiser saddle |
| TIRE | Compass 26 x 4.0 | Kenda 26 x 4.0 |
| LIGHT | Included | Included |
How do the 2 bikes compare? This awesome video show you the A-to-Z!
Youtube Link: https://www.youtube.com/watch?v=u8ZSdhjyTU4
---