Wallke X3 Pro VS Cyrusher XF690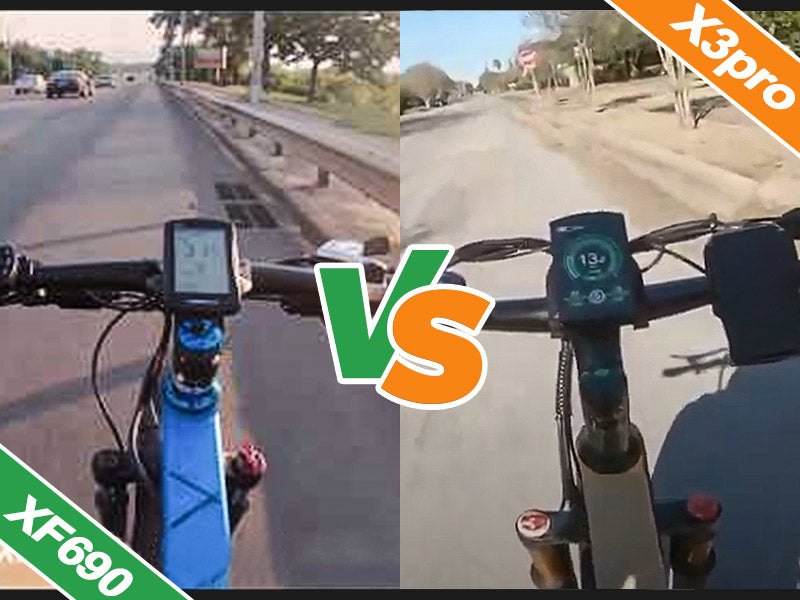 Wallke fans hope that we can compare the Wallke X3 Pro to the Cyrusher XF690. If you are caught between a Wallke X3 Pro and a Cyrusher XF690, you are in a difficult situation how to choose between the two. I'd like to share what we've learned.
Electric Bike Classes
Wallke X3 Pro and Cyrusher XF690 are classified as class 3 ebike. If you're looking for class 3 electric bikes, I believe both of them met your expectations. 
Frame
They are the folding fat tire e-bike, which means it can fit in the back of most SUV cars. The two are one frame size and four different color options. Wallke X3 Pro have seamlessly smooth welds for a much cleaner appearance and improved strength.
Motor
They boast the much more powerful motor of up to 750W combined with full suspension and fat tires. Both of them was built to handle offroad adventures. With the folding fat tire electric bike, all of your journeys will be fun and effortless. 
Battery Range
For many riders, battery range is more important features to consider. Wallke X3 Pro went all in with a 14 Ah Samsung battery. XF 690 opted for 12.8 Ah Samsung cells. If your trip is going to be a long one, I'm sure X3 Pro suits your needs.
XF 690 ESTIMATED RANGE: 31- 50 miles
X3 Pro ESTIMATED RANGE: 35-60 miles
Display
XF690 comes with easy-to-read LCD screen. Wallke X3 Pro has a full color display which has all the features you would expect on a display. This display had a USB charging port built in. If you don't mind having a larger and full color display, I think the X3 Pro will not disappoint.
Front Fork
XF690 comes with a hydraulic suspension with approximately 80 mm of travel. Wallke X3 Pro has a 100mm air suspension front fork, which minimizes the weight of the bike and indirectly improves the speed and flexibility of riding.
Components
XF690 has a set of fender keep you covered. X3 Pro comes a set of fenders and durable rear rack, which give it more urban utility. We're sure you're going to love the component when you ride.
Price
The XF800 has a starting price of $2,199 USD and comes with a 1 year limited warranty. Cyrusher website showed us that use coupon code get $500 off when buying 2 bikes. The Wallke X3 Pro is available for  $1999 with free shipping. Wallke is offering $150 off now. For the price, this is actually pretty good.
The Wallke X3 Pro is full suspension fat tire folding electric bike with excellent components that's priced closer to an entry-level ebike.
Have a friend that might be interested? Feel free to let us know what you'd be most interested in seeing. Please email us back.
---